A poem about teachers and written in Scots was recited at a rally in Edinburgh to mark the anniversary of Robert Burns' birth and the halfway point of 16 days of rolling strike action.
Hundreds of educators braved the cold on Wednesday as the EIS union held a rally outside the Scottish National Gallery on The Mound, echoing their previous calls for a 10% pay rise.
Tom Britton, assistant secretary of the Edinburgh EIS association, recited a poem, written in Scots, by Thomas Clark called "Tae a Teacher" to mark Robert Burns' birthday.
The pay dispute between teachers, Cosla and the Scottish Government has become increasingly entrenched, with unions accusing the Scottish Government and councils of having "little to no interest" in finding the funding to resolve the matter.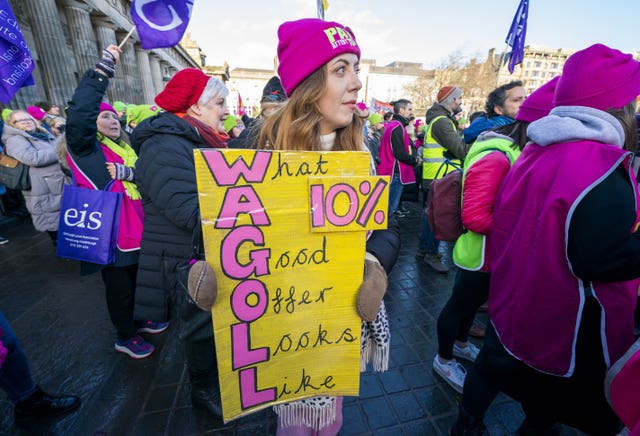 Teachers were joined by STUC general secretary, Roz Foyer, who said: "I want to give you my thanks as one of Scotland's parents, as well as a worker.
"Parents across Scotland are with you, we remember the pandemic, we know what you did for our kids and we know what you do day-out-day-in to help support our children.
"You are on the front line of many of the problems that workers and communities are facing.
"The way we are going to get the Scottish Government to stop talking, start listening and pay attention is to keep coming together, to keep going.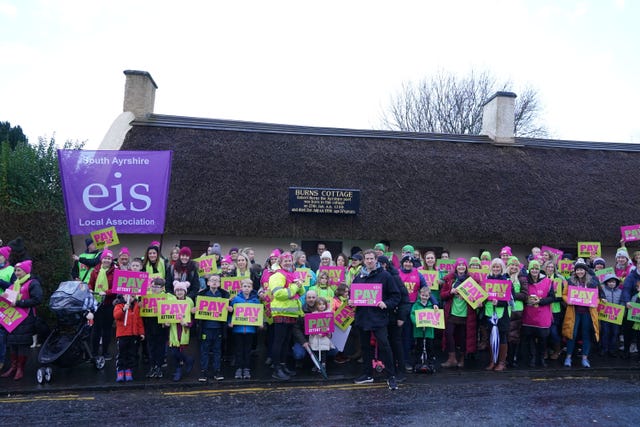 "What you are doing right now is inspiring workers right across Scotland to recognise that we do deserve to be paid properly for the work that we do."
Members of other striking unions such as the CWU also came to show their support.
School pupil Adam Ballard, from the Edinburgh High School Students Union, said: "When we as Scotland's largest school students' voice organisation held a vote on our support of the teacher's strikes, it passed with almost 100% support.
"Everyone in the education system are saying the same things, students and teachers alike can see the problems.
"When I was sitting my National 5s, I had nine different English teachers in a year. That is a direct result of teachers leaving the profession due to unfair conditions and unfair pay. This is the disruption that harms school students, not teachers striking."
EIS general secretary Andrea Bradley, said: "It is testament to the strength of feeling of teachers about what is increasingly perceived as Governments' real contempt for them, dressed up in warm words and sophistry, that in spite of the deliberately restrictive anti-trade union legislation that remains in force, that our respective unions were able to beat the ballot thresholds and achieve industrial action mandates."
She advised politicians south of the border against "seeking to divide teachers and support staff" in schools on the issue of pay, as she said that "the Scottish Government, for all its claims about its trade union-friendly credentials, is shamefully seeking to do this".
But Scottish Education Secretary Shirley-Anne Somerville maintains the union's demand for 10% is "not affordable".
She said: "The union demands for a 10% increase for all teachers – even the highest paid – is not affordable within the Scottish Government's fixed budget and a more pragmatic approach is needed before we can reach a compromise.
"The Scottish Government values the hard work that our teaching workforce put in for our learners and we remain absolutely committed to ensuring they receive a fair pay deal.
"We remain in talks with unions and hope that these will continue to progress towards a compromise to ensure a sustainable deal for all involved."
Ms Somerville has called for industrial action to be reconsidered while talks continue, but unions say the Scottish Government has failed to bring a better offer than 5% and 6.85% for probationers to the table for the last five months.
Four offers have been made to teaching unions via the Scottish Negotiating Committee for Teachers (SNCT) which brings the Scottish Government, unions and Cosla together – but these have all been rejected.