The number of excess deaths registered each week in England and Wales has hit its highest total for nearly two years.
Some 17,381 deaths were registered in the seven days to January 13 – 2,837 above average for the time of year, according to the Office for National Statistics (ONS).
This is the highest number of excess deaths since 3,429 in the week to February 12 2021, when the UK was experiencing its second wave of Covid-19 infections and vaccinations had only recently begun.
On that occasion, deaths involving coronavirus accounted for 37% of all those registered.
But in the most recent week, Covid-19 accounted for just 5% of the total – meaning other factors are likely to be driving the high level of mortality.
Excess deaths, sometimes known as extra deaths, are the number of deaths that are above the average for the same period in previous years.
High levels of excess deaths mean many more people than usual are dying.
This winter has seen a sharp spike in the figures, with deaths 21% and 20% above average in the last two weeks of December, followed by 14% and 20% in the first two weeks of January.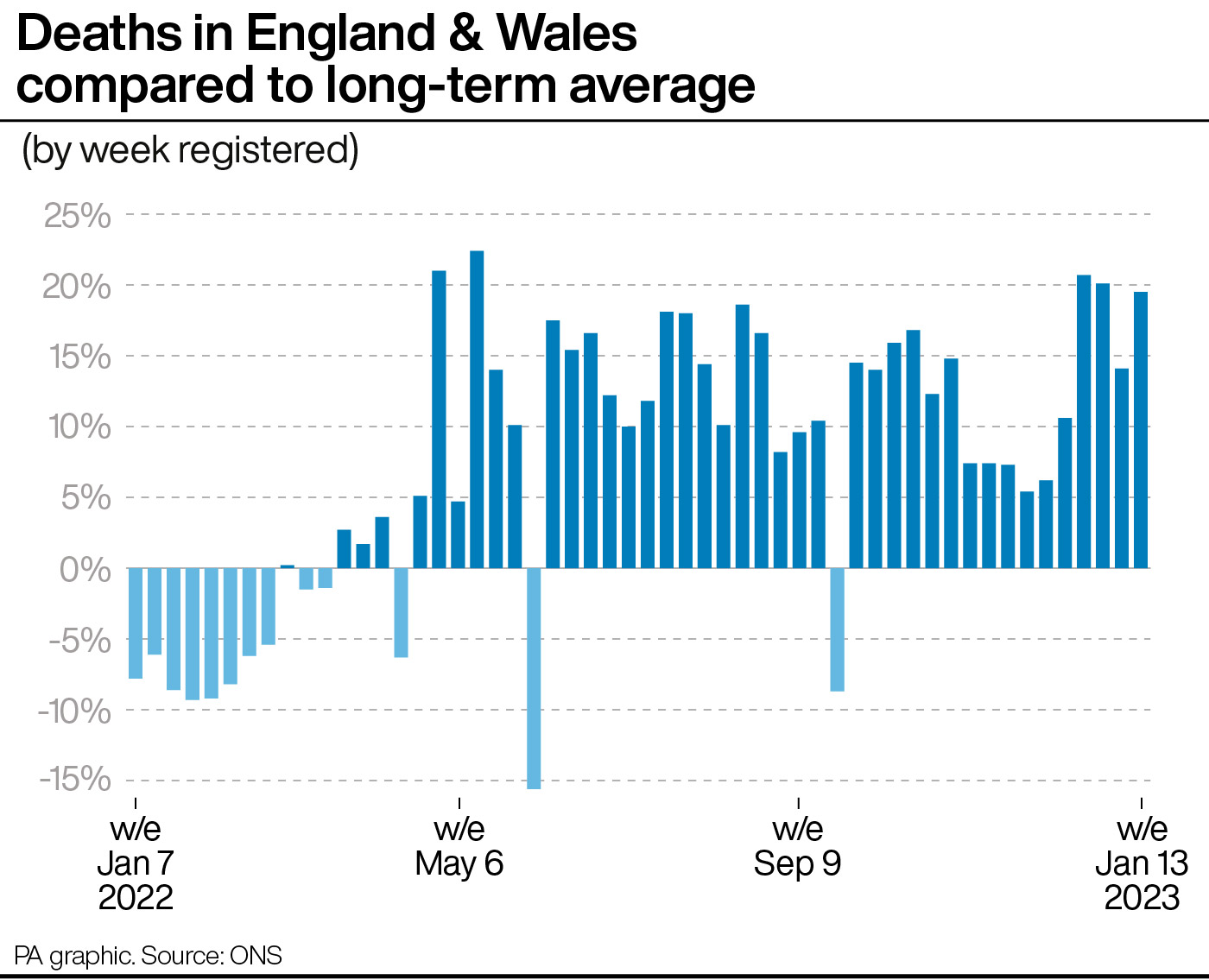 Health experts have suggested a number of factors could be behind the increase, with Covid-19 playing only a minor part.
The surge in flu cases in the run-up to Christmas is likely to have had an impact.
The latest data shows deaths involving flu and pneumonia accounted for nearly a quarter (24%) of all of those registered in England and Wales in the first two weeks of the year.
Deaths where flu and pneumonia were recorded as the underlying cause of death accounted for 9% of registrations in the week to January 6 and 8% in the latest week – levels not seen since before the pandemic.
Veena Raleigh, senior fellow at health charity The King's Fund, said other factors driving excess deaths include "unmet healthcare needs during the pandemic" and "unprecedented pressures on NHS services".
Halting and reversing the trend in extra deaths needs these factors to be "addressed urgently", she added, with vaccination programmes "a priority as Covid-19 continues its relentless march, along with flu and pneumonia in recent weeks".
Deaths in England and Wales have been above average every week since early June 2022, with nearly 30,000 excess deaths registered since the week ending August 5.
Levels remain particularly high among people dying at home, where deaths were 32% above average in the week to January 13, compared with 28% higher for care homes and 11% higher for hospitals.
There were 1,082 excess deaths at home registered in the latest week, 55 of which involved Covid-19.
It is only the second time the number has topped 1,000 since February 2021 – the other instance being 1,120 deaths in the week to December 23 2022.
Figures published last week by the ONS showed the leading cause of excess death last year in England was "symptoms, signs and ill-defined conditions" – a definition used to cover people who are frail or elderly.
Some 4,756 extra deaths were registered in 2022 within this category, 37% above the average.