Collecting MBE 'very special', Coronation Street star Helen Worth says
England's chief nurse Ruth May also receive honours from William.
Coronation Street actress Helen Worth has spoken of her pride after being made an MBE by the "gorgeous" Prince of Wales.
She received the award at Windsor Castle on Tuesday in an investiture ceremony which saw England's chief nurse Ruth May also receive honours from William.
Mrs Worth, who has played Gail Platt on the soap since 1974, told the PA news agency: "He (William) was so lovely, so easy. He asked all the right questions. He was very complimentary."
She added: "It just feels absolutely wonderful. To collect an MBE is very special.
"But to receive it in this beautiful building and to be able to walk through it and look at all these pictures and tapestries, I love castles and houses in history, and so for me to come here today is just absolutely wonderful."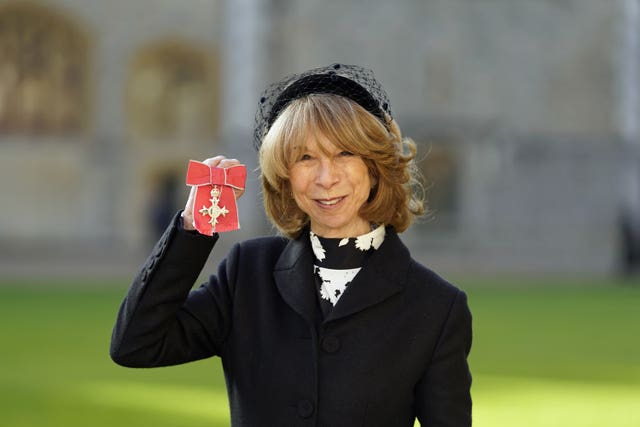 She said she plans to celebrate the day with her husband and her friends in Windsor after staying overnight in a hotel.
"I think we might find a few more reasons to celebrate," she laughed.
She added: "To have had a job and one that I love, and to be able to work in it is quite extraordinary. And then to get an award for it is just the icing on the cake.
"I have a little time off to begin with but I will walk in with my medal the day I do.
"There are quite a few medals scattered around the cast. They've all already been given them. I'm bringing up the rear really."
Ruth May, NHS England's chief nursing officer, received a damehood for her contribution to nursing, midwifery and the NHS.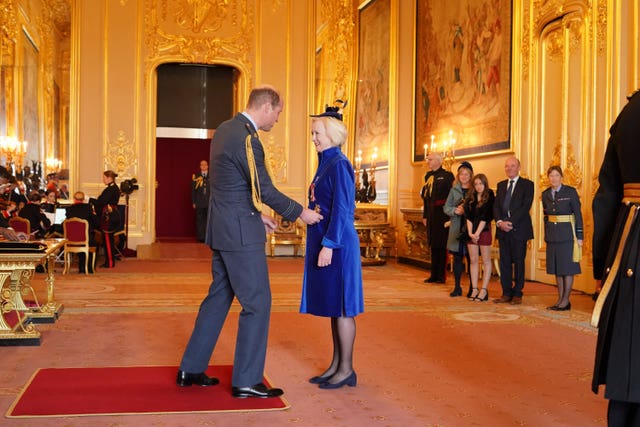 She told PA it was a fitting celebration of nurses' "amazing contribution" to the country.
She said: "It is a huge privilege to be here in Windsor Castle and seeing the Prince of Wales this morning.
"I had the great privilege to talk to the Prince of Wales this morning during my investiture and we talked about the amazing contribution that nurses and midwives have made during this pandemic. I'm very proud to be a nurse."
She added: "I shall be back to work tomorrow. And until then I'm going to enjoy having time with my family and it's my opportunity to say thank you.
"We were here yesterday and my mum and her husband have come up from Wales. My brother-in-law and family have come from Norfolk. So, yes, we are very privileged to be here."