Final preparations are under way ahead of the first rocket launch from UK soil.
Several satellites are due to be blasted into space on Monday night from Cornwall Airport near Newquay.
If all goes to plan the launch will take place at Spaceport Cornwall as part of the Start Me Up mission.
The initial window for the historic mission will open at 10.16pm on Monday, with additional back-up dates continuing into mid and late January.
Named in tribute to The Rolling Stones' 1981 hit, the mission involves a repurposed Virgin Atlantic Boeing 747 aircraft and Virgin Orbit's LauncherOne rocket.
The 747, dubbed Cosmic Girl, will take off horizontally from the new facility while carrying the rocket.
Around an hour into the flight the rocket will be released at 35,000ft over the Atlantic Ocean to the south of Ireland.
The plane will then return to the spaceport while the rocket will ignite its engine and take multiple small satellites, with a variety of civil and defence applications, into orbit.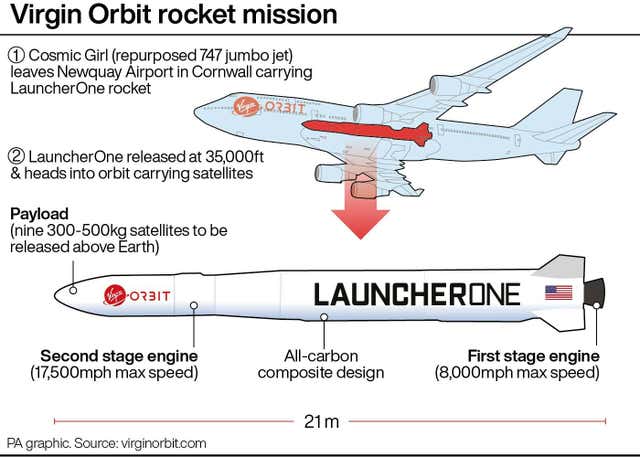 They will be the first satellites launched into space from Europe.
In the past, satellites produced in the UK have needed to be sent to foreign spaceports to make their journey into space.
Speaking on Sunday, Ian Annett, deputy chief executive at the UK Space Agency, described his "immense excitement".
"Who would not be excited by the fact this is the first time that it has been done in Europe? That's because it's hard," he said.
"There is a point where the training takes over and you fall into that rhythm of the teams knowing what they need to do.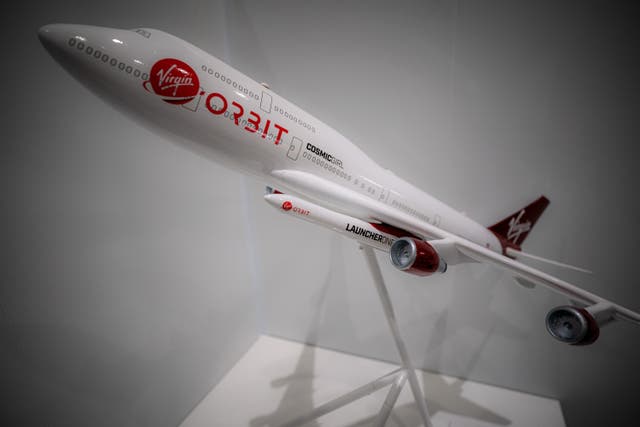 "They know when they need to make the decisions they need to make.
"I would say the real achievements here are not the successes that you can necessarily see but all of the challenges that collectively as a team people have overcome.
"The culmination of all of that is putting these exciting missions into space. It's the things at the pointy end of the rocket that really matter."
It was originally hoped the launch could take place before Christmas but owing to technical and regulatory issues it had to be pushed into 2023.
Dan Hart, chief executive of Virgin Orbit, said: "We knew this was not going to be a piece of cake when we took up on the opportunity.
"We worked very closely with the UK Space Agency, the Civil Aviation Authority and Spaceport Cornwall, as well as the international airspace community.
"I think we have learned a lot doing that. I think, like any first, the first time you do it is difficult, the second time you already know and can anticipate.
"The short answer is we are excited to be here, and we're excited about the future and coming back as soon as later this year to launch again."
On Thursday, Virgin Orbit's LauncherOne system successfully completed an end-to-end launch rehearsal.