Supporters of three jailed fracking protesters have marched through a city centre to hold a demonstration outside the prison where they are being held.
About 200 activists gathered at Preston train station at around midday on Saturday to show support for Simon Blevins, 26, from Sheffield, Richard Roberts, 36, from London and Rich Loizou, 31, from Devon.
They were jailed last week after being convicted of public nuisance following a protest outside energy firm Cuadrilla's site in Lancashire in July 2017.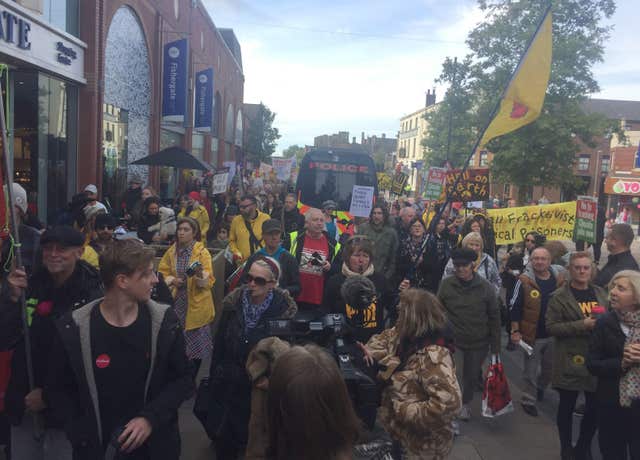 Among the supporters were Loizou's parents Sharron, 62, and Platon, 64.
Mr Loizou said: "We're normal working people, I'm retired now, we just want to get on with our lives."
He said it had been "difficult" since Loizou had been sentenced and added: "We're very sad for what's happened. We never believed it would come to a prison sentence.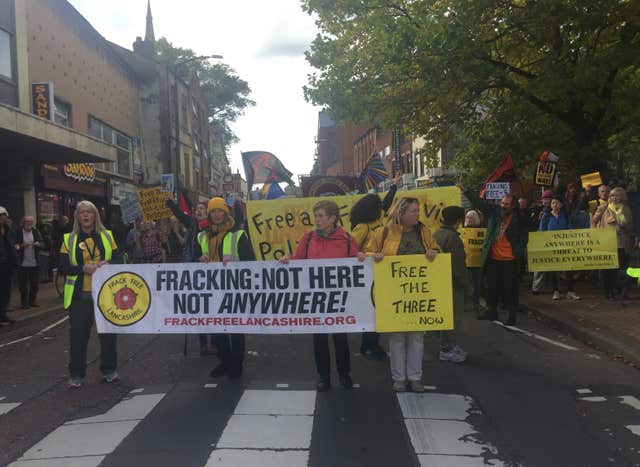 Mrs Loizou said she had spoken to her son that morning.
She said: "He sounded in good spirits. I think the support he has is helping.
"Rich would never hurt anybody. He just cares about the planet, he always has."
Loizou was jailed for 15 months at Preston Crown Court last week, while Blevins and Roberts were sentenced to 16 months in prison.
Solicitors for the men confirmed on Friday they would be lodging an appeal against the sentences.
On Saturday, demonstrators with banners marched along Preston's main shopping street Fishergate with a police escort.
At times they stopped traffic, with protesters surrounding a police vehicle at one point as it attempted to drive towards them.
They chanted "free the three" and "we said no" before arriving outside HMP Preston where they sang songs and banged drums.
Organiser Leigh Coghill, 27, told the demonstrators to "send good vibes to the hundreds of people inside this building".
She told the Press Association the imprisoned men had "answered the call" of the community in Lancashire who opposed fracking.
She said: "They are buoyed and entirely grateful for the support that they have received. I spoke to one of them this morning and he said the support has been like a blanket round the prison that made him feel safe."
Isabelle Luterbacher and Tina Lynham said they had travelled from Devon to support Loizou, who taught their sons in a forest skills and craft-making class.
Ms Luterbacher said: "He's enthusiastic, energetic and inspirational.
"He's a really peace-loving person."
Miranda Cox, 49, a town councillor for Kirkham in Lancashire, said she was there to show solidarity.
She said: "We feel the sentencing is draconian and unprecedented."
At the men's sentencing on September 26, Judge Robert Altham said he felt he could not suspend the jail terms despite accepting the impact of incarceration and the good they did in the community.
He said: "Given the disruption caused in this case, only immediate custody can achieve sufficient punishment."
A fourth defendant, Julian Brock, 47, from Torquay, was sentenced to 12 months in custody, suspended for 18 months, after he pleaded guilty to public nuisance.
Energy firm Cuadrilla has said it expects to start fracking at the site on Preston New Road in Little Plumpton next week, although a hearing will be held at the High Court on Wednesday to decide whether an injunction to stop work should be granted pending the determination of a judicial review case against Lancashire County Council.