Three young men have been jailed after a getaway car was torched 24 hours after it was used in the gang-related murder of a 21-year-old man.
Malachi Brooks is believed to have been killed by the south London gang Tooting Trap Stars (TTS), the Old Bailey heard.
The carpenter was stabbed in the heart in Battersea, south London, and died at the scene on March 28.
His attackers had driven to the scene in a stolen Nissan Micra which was dumped on an industrial estate in Wimbledon afterwards.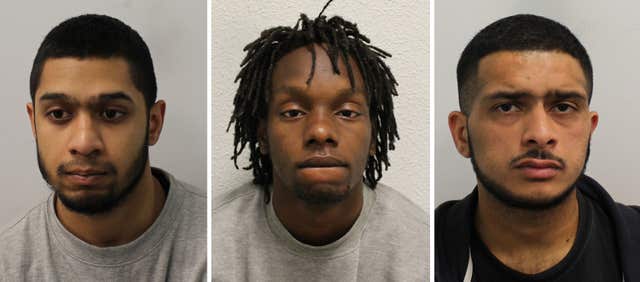 The next day, it was set alight, destroying any potential forensic evidence including fingerprints and DNA.
The Old Bailey heard CCTV showed that in the days leading up to the murder TTS gang member Joel Preddie was using the Micra.
In the early hours of March 29, Abdul Popatpotra made a series of calls to the mobile phone of a cab driver.
The cabbie then picked up Preddie and homeless Ashrafur Rahman and took them to a petrol station where one of them filled up a container.
The pair were dropped off near the Weir Road industrial estate where the Micra was burned out.
Preddie, 20, from  Mitcham, south London, was found guilty of perverting the course of justice and jailed for four years and eight months.
Rahman, 23, who was paid £100 to help, pleaded guilty to arson and perverting the course of justice  and was jailed for 25 months.
Popatpotra, 27, from Tooting, south west London, was found guilty of arson but cleared of perverting the course of justice.
He was handed a sentenced of 21 months by Judge Sean Enright.
The judge said: "The background to this case is the murder of Mr Brooks by the TTS gang.
"Mr Brooks was stabbed to death. It was planned and calculated with all the hallmarks of gang crime."
Mr Brooks' family said in a statement that their lives would never be the same again and due to the actions of the defendants "those that killed him may never be brought to justice".
Scotland Yard has said it is continuing to search for those responsible for Mr Brooks' murder.