The Lord Mayor of Dublin has called for the Israeli ambassador to be expelled, as a book of condolence was opened in the city for the Palestinian victims of the conflict in Gaza.
Micheal Mac Donncha, a Sinn Fein councillor, was joined by Palestinian ambassador Ahmad Abdelrazek to open the book of condolence at Mansion House.
Almost 60 Palestinians were killed and more than 2,700 injured by Israeli forces during protests on Monday.
Mr Mac Donncha said: "I think there is tremendous sympathy among the people of Dublin for the people of Palestine and also a lot of anger, deep anger, at the actions of the Israeli government."
Asked if he supported calls for the Israeli ambassador to be expelled from Ireland, he said: "I think it has come to that and that is the position of the city council."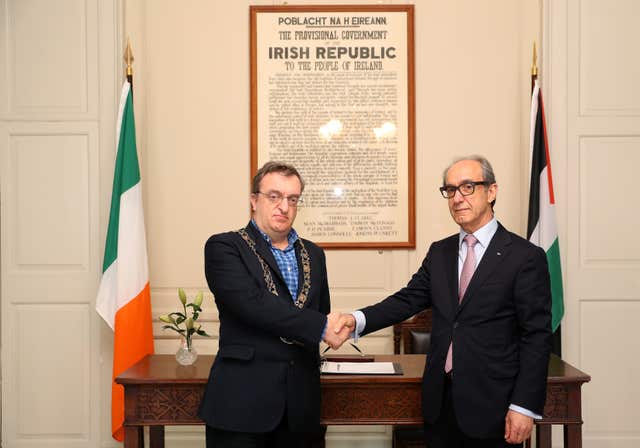 "In fact in recent decades, if ever, Ireland has never expelled an ambassador. That is not the way we believe we should engage with other states."
Mr Varadkar expressed his shock at the deaths and said: "There is no indication that the scale of the threat could have justified such violence and so many deaths."
Mr Abdelrazek said he felt the "solidarity and sympathy" of the Irish people.
He said: "I will always appreciate that. This time you can measure how the Irish people are outraged."
Members of the public began to arrive at Mansion House to sign the book of condolence after it was opened at midday on Wednesday.