North Shropshire MP Owen Paterson has warned his party against the "chaos" of a leadership contest as it could further delay resolving Brexit matters.
Mr Paterson said Theresa May was right "despite all the disappointments" to try to find a way to govern with the support of the Democratic Unionist Party given that the Tories won the most seats and most votes.
But the MP was less sure about how Mrs May could continue to rule in such a manner, saying "let's see how it pans out" when asked.
Speaking on BBC Radio 4's Today programme, the former Northern Ireland secretary told broadcaster John Humphrys: "We are nine days off from the Brexit talks starting, we've had two horrific security incidents, and to cast the Tory Party into yet another leadership contest I think would be very unwise.
"John, personally I wouldn't go and do it – I tempt you to go and talk to Brenda in Bristol…"
Mr Humphrys intervened: "She won't talk apparently, she's refusing all interviews. I don't know what that tells us of the state of the nation."
Asked how long Mrs May would stay as PM, Mr Paterson replied: "Let's see how it pans out. There is an immediate problem to get a government fixed which has a workable majority so we can begin to work on Brexit."
Former Tory leader Lord Hague said "very serious lessons" had to be learned by the party but warned against a leadership contest.
Writing in The Daily Telegraph, he said: "An overwhelmingly strong position at the time of the local elections on May 4 was turned into serious losses by June 8.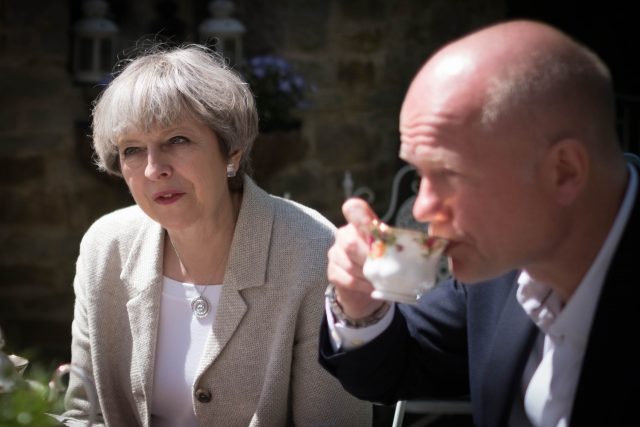 "The awful truth is that no party has given up such an advantageous situation with such speed in the modern electoral history of our country. Very serious lessons will have to be learnt from that."
Former minister Ed Vaizey indicated that Tory MPs were actively discussing Mrs May's position using the WhatsApp messaging system.
Asked if there were phone calls being made between Tories about the next leader, Mr Vaizey told the BBC: "That's so 20th century. It's all on WhatsApp."
He added: "We all talk on WhatsApp … lots of MPs are in lots of different groups."