What is it?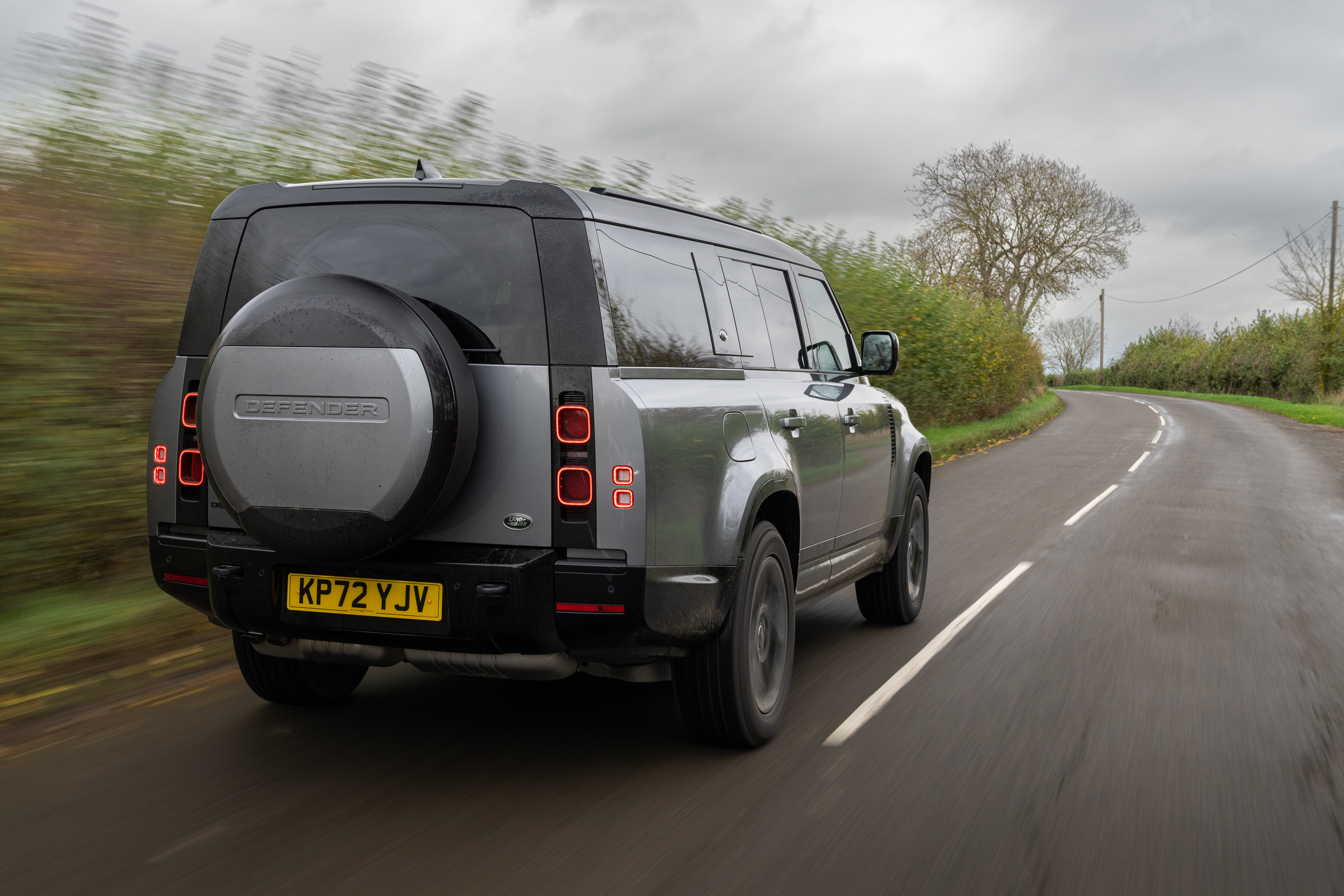 >
How do you go about tweaking the Land Rover Defender? The chunky off-road-focused model has been a smash-and-grab hit for JLR, delivering a premium finish, a high-tech interior and plenty of capability wrapped up in a good-looking exterior. So where else do you go after short-wheelbase 90 and long-wheelbase 110 versions?
For JLR, that's the 130. It's got an extra seat over the 110, bringing eight individual chairs in total. But does this people-carrying ability dent the appeal of the Defender overall? We've been finding out.
What's new?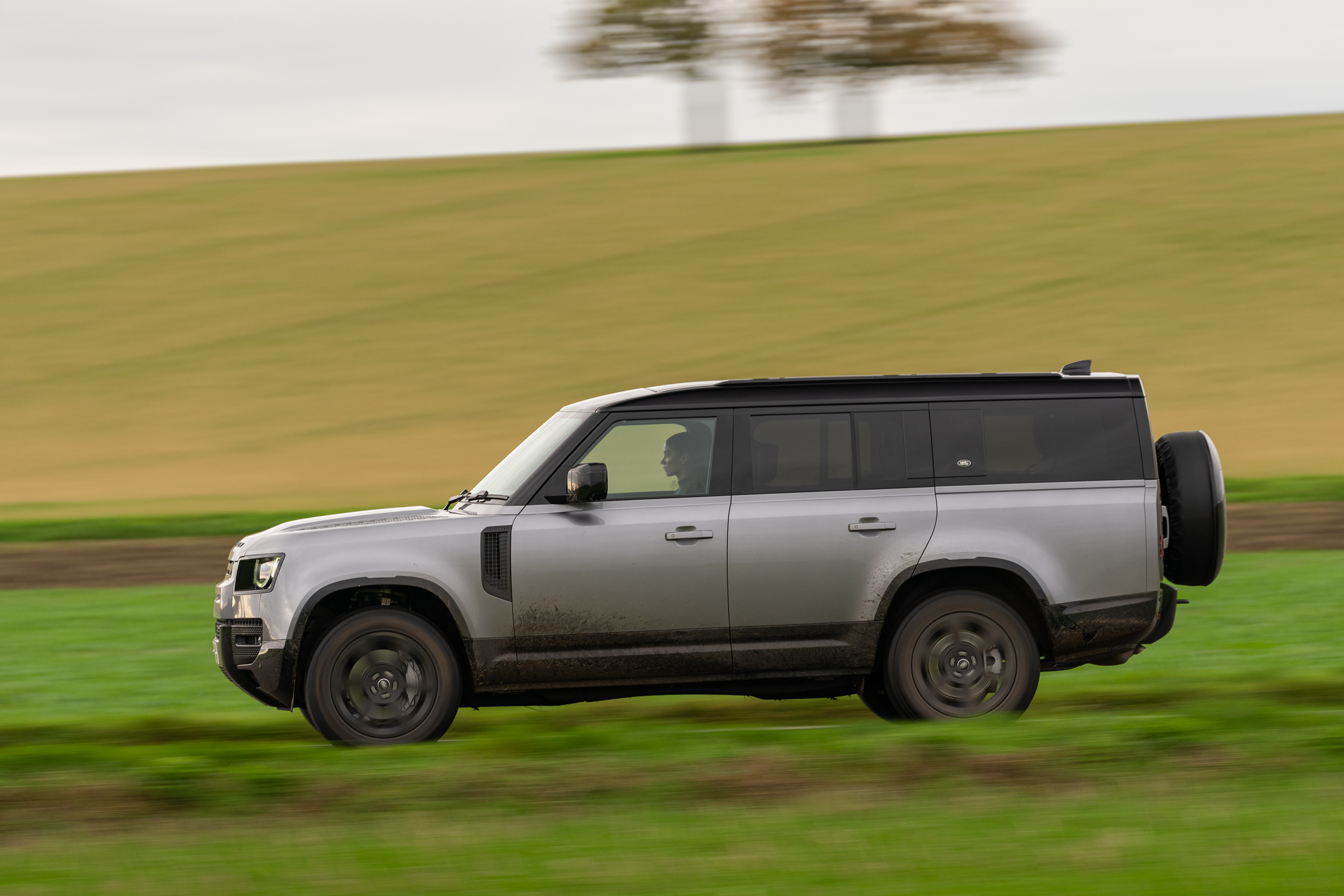 >
The bulk of the changes surround those extra seating places, of course, but elsewhere things are pretty much tried-and-tested Defender. Measuring in at 5,358mm with the spare wheel equipped, the 130 is not compact by any stretch of the imagination, and it's also 340mm longer than the regular 110. You better be ready to find the largest parking spaces you possibly can.
But apart from this growth spurt over the 110, there's not an awful lot to differentiate the 130 from the rest of the range. Head-on, you'd be hard-pressed to tell it apart from the standard-length Defender – it's only when you move around the side that you realise things aren't quite what they usually seem.
What's under the bonnet?
>
The 130 we're testing is powered by a relatively traditional 3.0-litre turbocharged diesel engine. Granted, it's got some mild-hybrid assistance to help lower emissions and improve efficiency, but it does feel like a largely 'usual' diesel engine. With 296bhp and 650Nm of torque, it's got more than enough power to hulk this leviathan along and, in fact, a zero to 60mph time of 7.1 seconds isn't half bad.
Land Rover says you should get a smidge over 31mpg combined, while CO2 emissions stand at 234g/km. As with all Defenders, you get full four-wheel-drive and a suite of off-road assistance systems to help you go here, there and everywhere.
What's it like to drive?
>
As you might expect, the driving experience with the 130 is dominated by its size. This comes into play when you're parking, driving at slower speeds or even just gauging how much space you have when reversing. Parallel parking takes some real effort, despite the variety of sensors and cameras you have at your disposal.
However, up-and-running things are pretty much straightforward Defender. There's a tiny bit more chassis shake over lumps and bumps, but at speed the 130 is refined and comfortable. The 3.0-litre diesel engine is a great pairing, too, as it provides well-proportioned acceleration that never leaves the Defender feeling like it's lacking in power.
How does it look?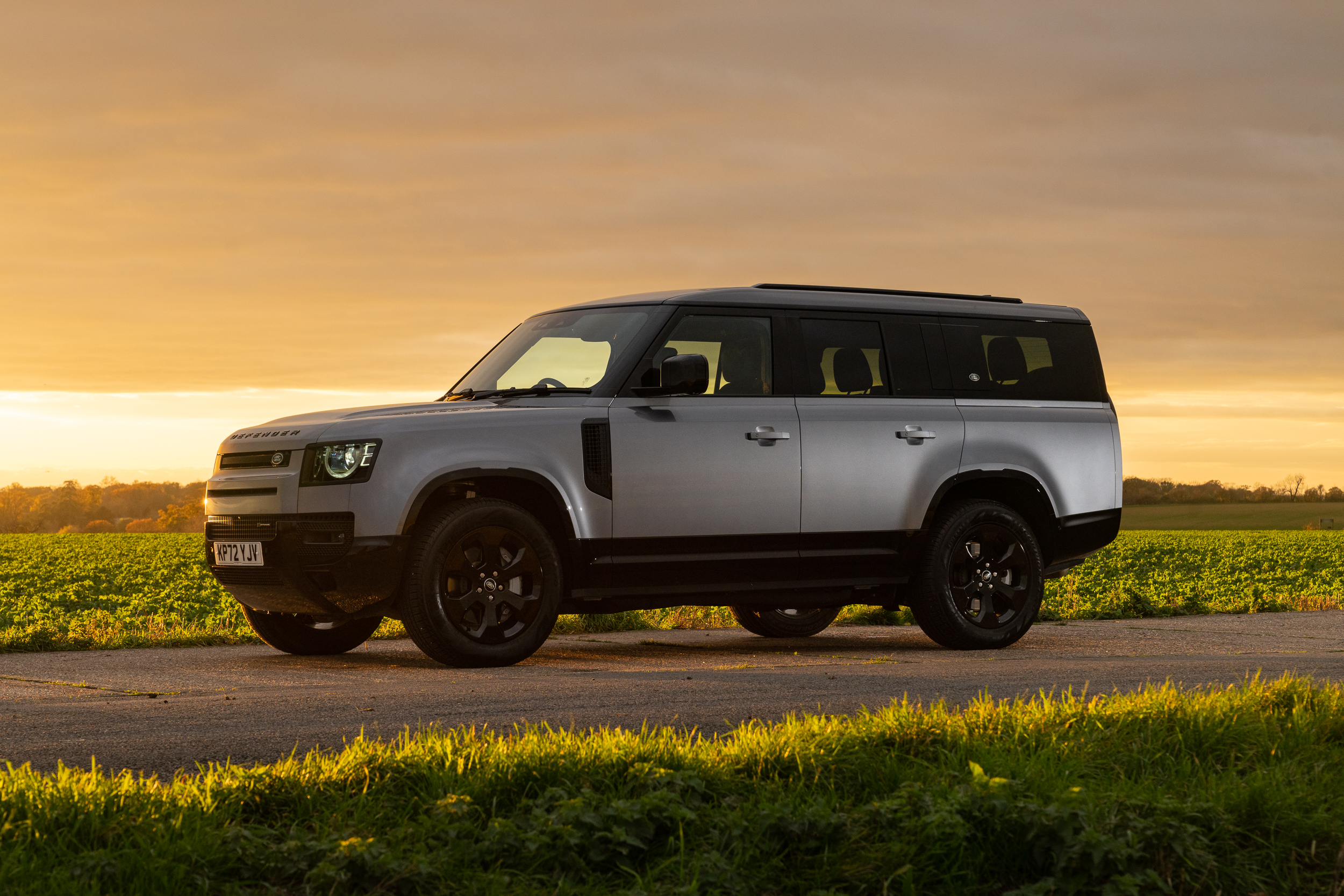 >
As we've already touched upon, from many angles the Defender 130 looks like its shorter stablemates – apart from side-on, that is. When looked at from that angle, the 130 does look a little strange to the eye, with the rear, elongated section appearing a little grafted on at the back.
The proportions of many of the panels are the same, but it's that rear section which does appear a touch heavy – to our eyes, at least.
What's it like inside?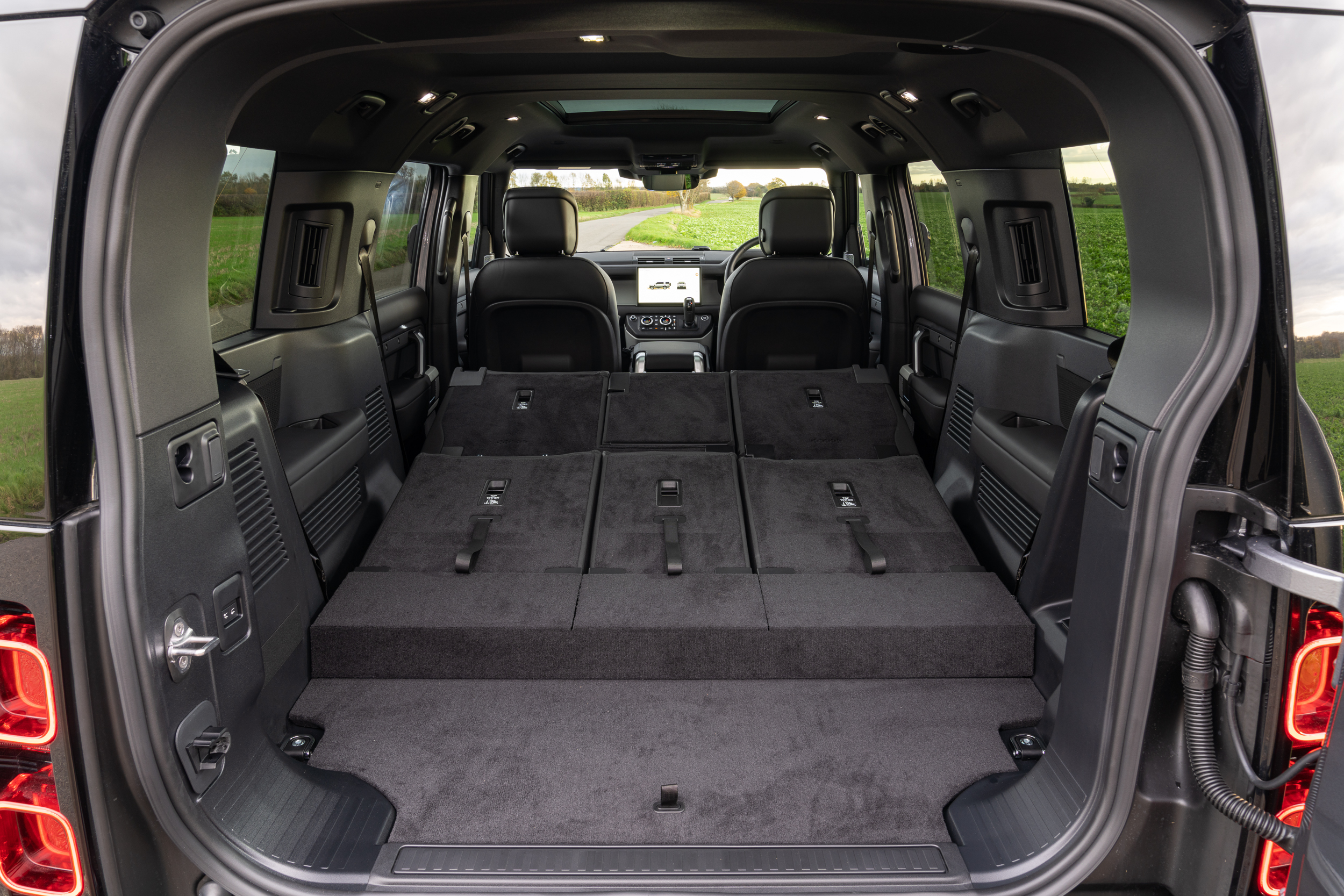 >
Big and spacious, the Defender 130 is definitely a roomy way of getting around. The forward part of the cabin is dominated by chunky, robust stylings and nicely finished materials – just as we expect from the modern Defender – while plenty of charging points dotted throughout the interior means you've a variety of options for topping-up devices.
There are three seats in the second row and three seats in the rearmost row, with all providing a decent amount of leg and headroom. When you've got all the seats in place there's still a decent 398 litres of space – loaded to the roof – but fold down both rows and there's a huge 2,516 litres there to play with.
What's the spec like?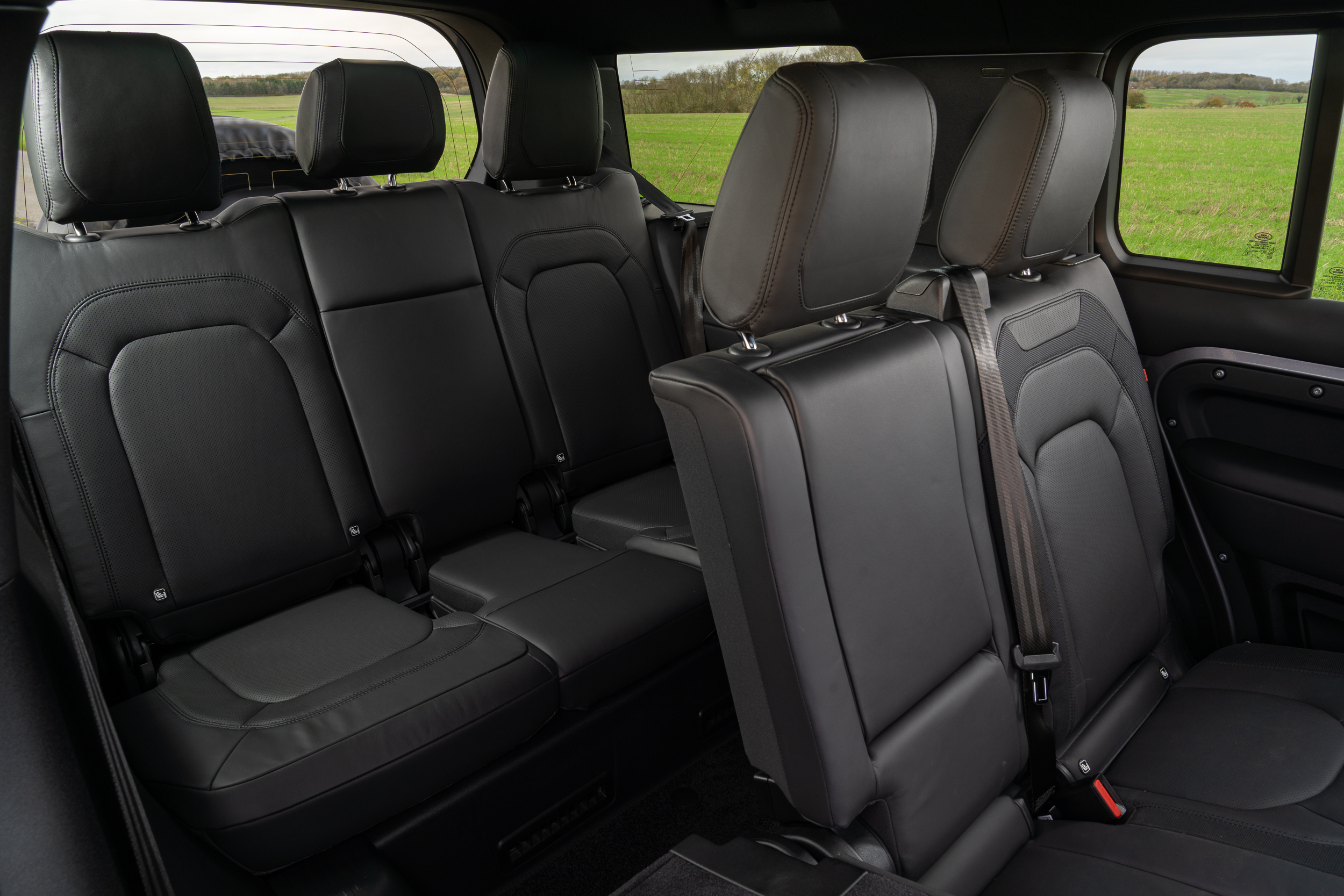 >
Prices from the Defender 130 kick off from £73,850, nabbing you an X-Dynamic SE model with 20-inch alloy wheels, 12-way adjustable and heated front seats and a full Meridian sound system as standard, alongside a turbocharged petrol engine. It's worth adding that prices for the 110 start from £66,395.
Our test car, in a higher-specification X-Dynamic HSE trim level and equipped with that diesel engine tipped the scales at £86,785, with a smattering of options such as an extended gloss black exterior pack (£975) and an Eiger Grey exterior paint (£895) helping to bump the price up. However, the standard equipment that you get with the 130 is already good, so there's not much need to trouble the options list too much.
Verdict
You could argue that the arrival of the 130 waters down the spirit of the 'original' Defender, but for many people it'll come as a valuable alternative to the 'standard' versions of this car and enable a lot more people to come along for the ride.
It's also remarkably well executed, with a great cabin and a nicely refined driving experience. For most drivers, the 110 will provide more than enough space but for those motorists who do need that extra people-carrying ability then the Defender 130 is a nicely polished option.