First Drive: The Lexus RZ is a bold electric SUV with big ambitions
Lexus is expanding its EV line-up with the new RZ. Ted Welford heads to Marseille to try it out.
What is it?
Lexus has pretty extensive experience when it comes to electrified models. It's produced more than 2.4 million hybrid models in around 20 years and is now setting its sights on EVs, with the Japanese premium firm looking to become electric-only in the UK by 2030.
It kicked off its electric offensive a few years back with the UX300e – an underwhelming version of Lexus's hybrid crossover, and one that felt like an EV it was forced to make, rather than one it wanted to. But Lexus is now taking things up a level with the new RZ. It's a new bespoke EV, and an important car indeed. But in the increasingly competitive premium electric segment, is it good enough?
What's new?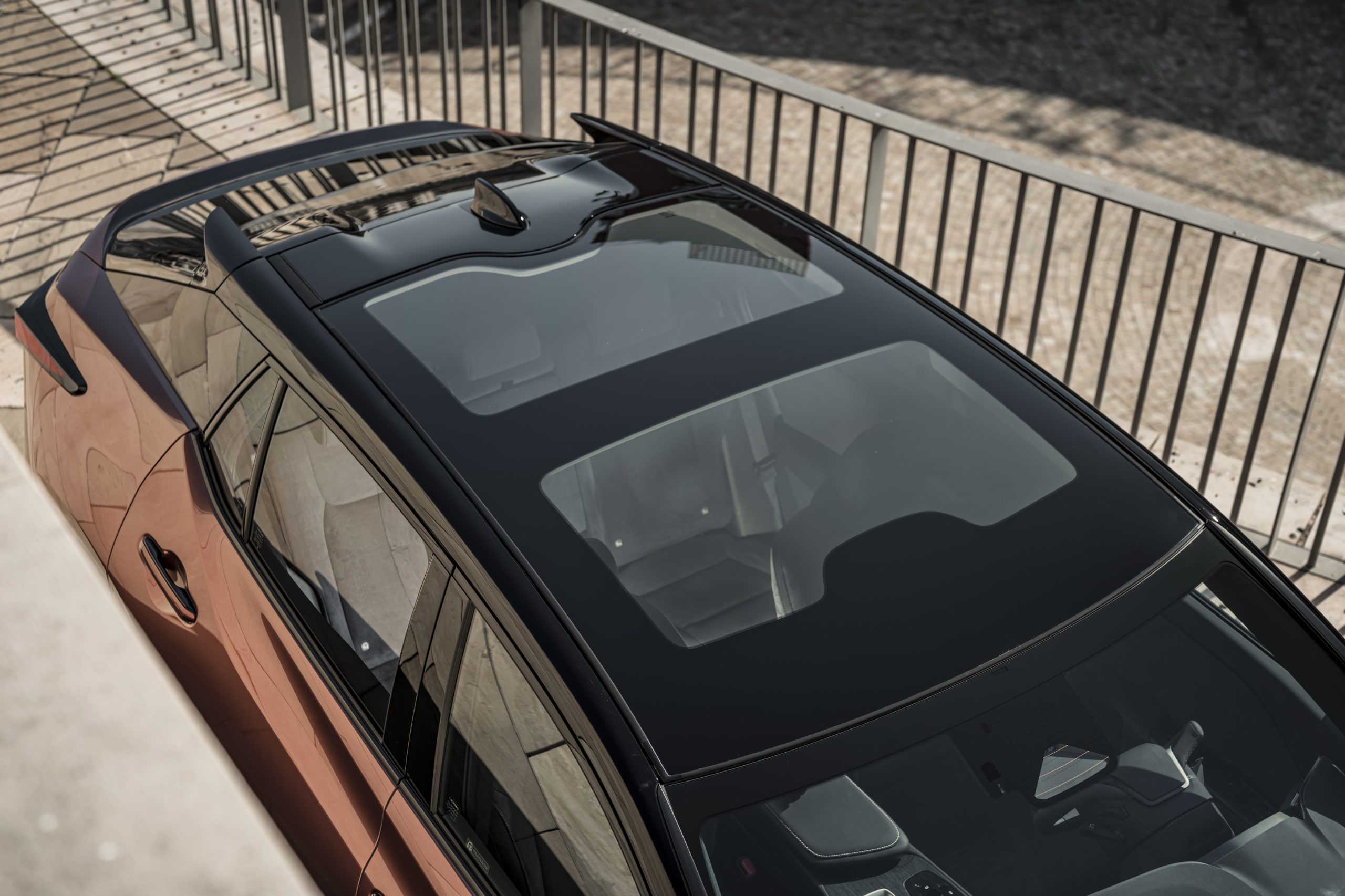 Built around a specific EV platform, the RZ arrives as the posher twin to the Toyota bZ4X, which hit showrooms in 2022 and caused controversy in the process thanks to several recalls issued almost immediately after the first cars were delivered. It also brought a lukewarm range in winter conditions. These have both pushed back the launch of the new RZ, which is now set to arrive in the UK in May.
Packed with innovations, including a panoramic sunroof that can shut out the light to become opaque at the press of a button, without the need for a blind, and a new steer-by-wire system (more on that later), it's a car that Lexus seems to have thrown everything good and great at.
What's under the bonnet?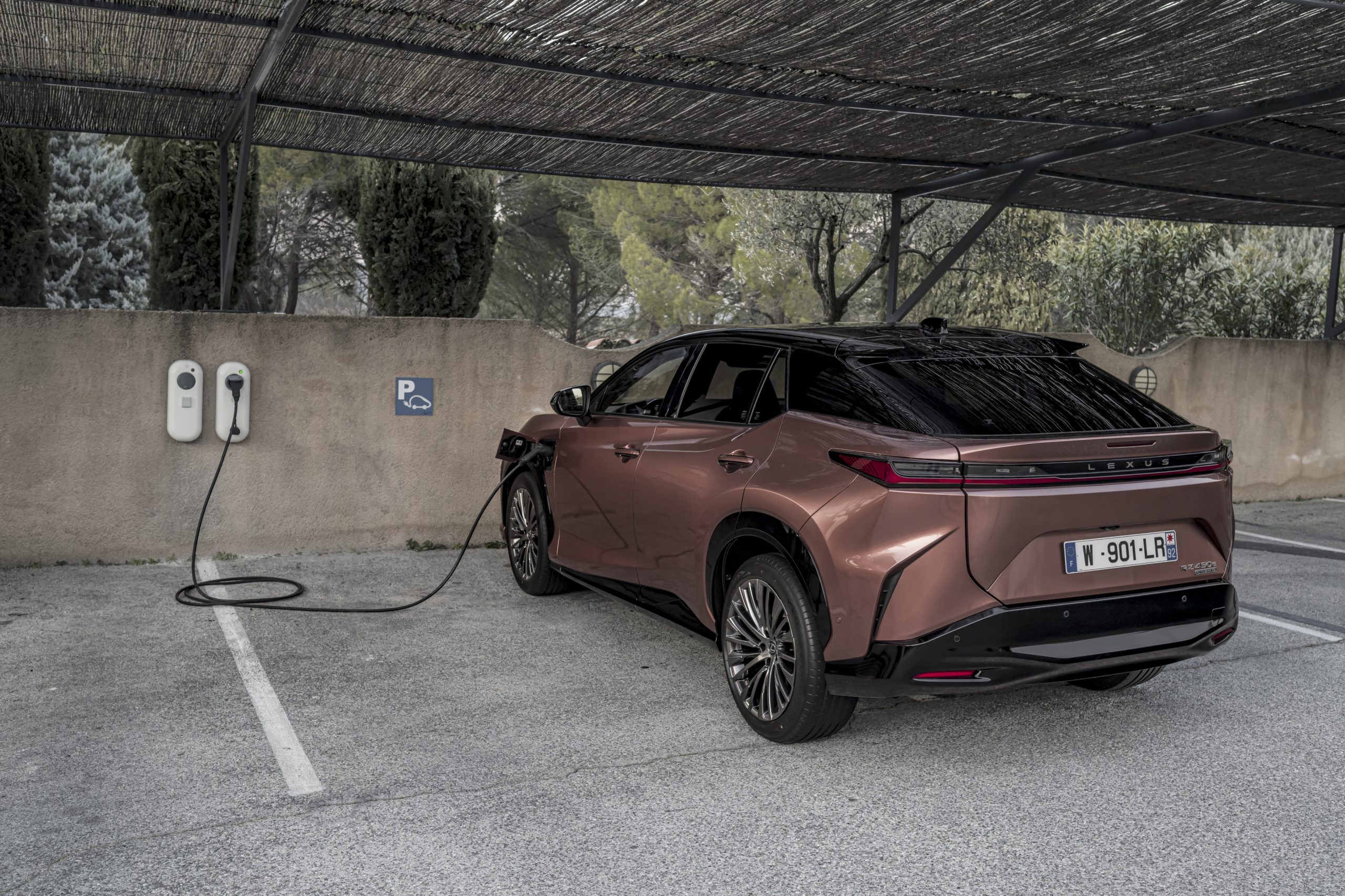 The RZ arrives with a single powertrain, and one which has been 'rightsized' Lexus says. It means the 71.4kWh battery (of which 64kWh is usable) is quite a lot smaller than those used in rivals like the Audi Q8 e-tron and Mercedes EQC. All RZ 450e models (as it's called) currently use a twin motor powertrain on each axle (the one at the front being more powerful) for a combined 309bhp and 435Nm of torque. That setup means it's all-wheel-drive, too.
That allows for a 0-60mph time of just 5.1 seconds and a top speed capped at 99mph. As for range, Lexus claims up to 272 miles on a car fitted with 18-inch alloy wheels, and 252 for one on the larger 20-inch rims. We suspect that, like the bZ4X sibling, the RZ 450e's range may prove disappointing in real-world conditions so expect less than 200 miles based on our drive. You can also charge the RZ at up to 150kW, meaning an 80 per cent charge can be achieved in around 30 minutes. If using a 7kW homecharger, you can expect the battery to be replenished in 10 hours.
What's it like to drive?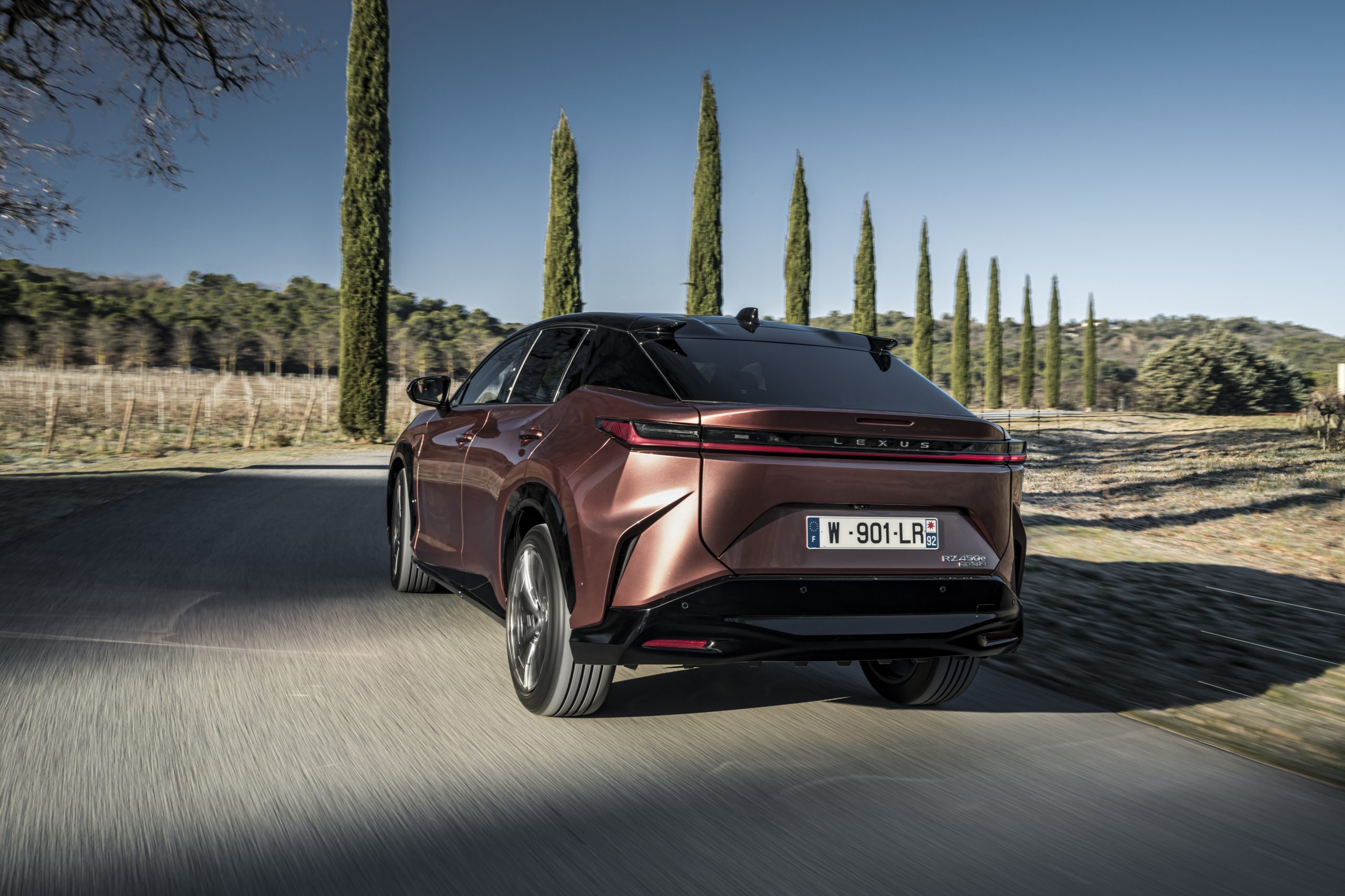 Things get off to a great start with the RZ, with the driving position making it easy to get comfortable, with more adjustability than in the Toyota. It also feels especially brisk, picking up pace at quite a rate.
Lexus is renowned for its cars' comfort and refinement, and both of these factors remain and are amplified with the RZ. It's especially quiet on the move, even by EV standards, while the ride – regardless of whether you opt for the 18- or 20-inch alloy wheels – is particularly comfortable.
A key talking point with the RZ is its new 'One Motion Grip' steering, which will be optional. Operated by a new steer-by-wire system where it's an electrical – rather than mechanical connection – you also get this new, strange-looking steering wheel. The idea is that it takes less effort to use at low speeds so you need hardly any input to turn or manoeuvre.
It's quite odd to use initially but you quickly get used to it. We suspect take-up will be minimal when it's eventually rolled out in 2025, however.
How does it look?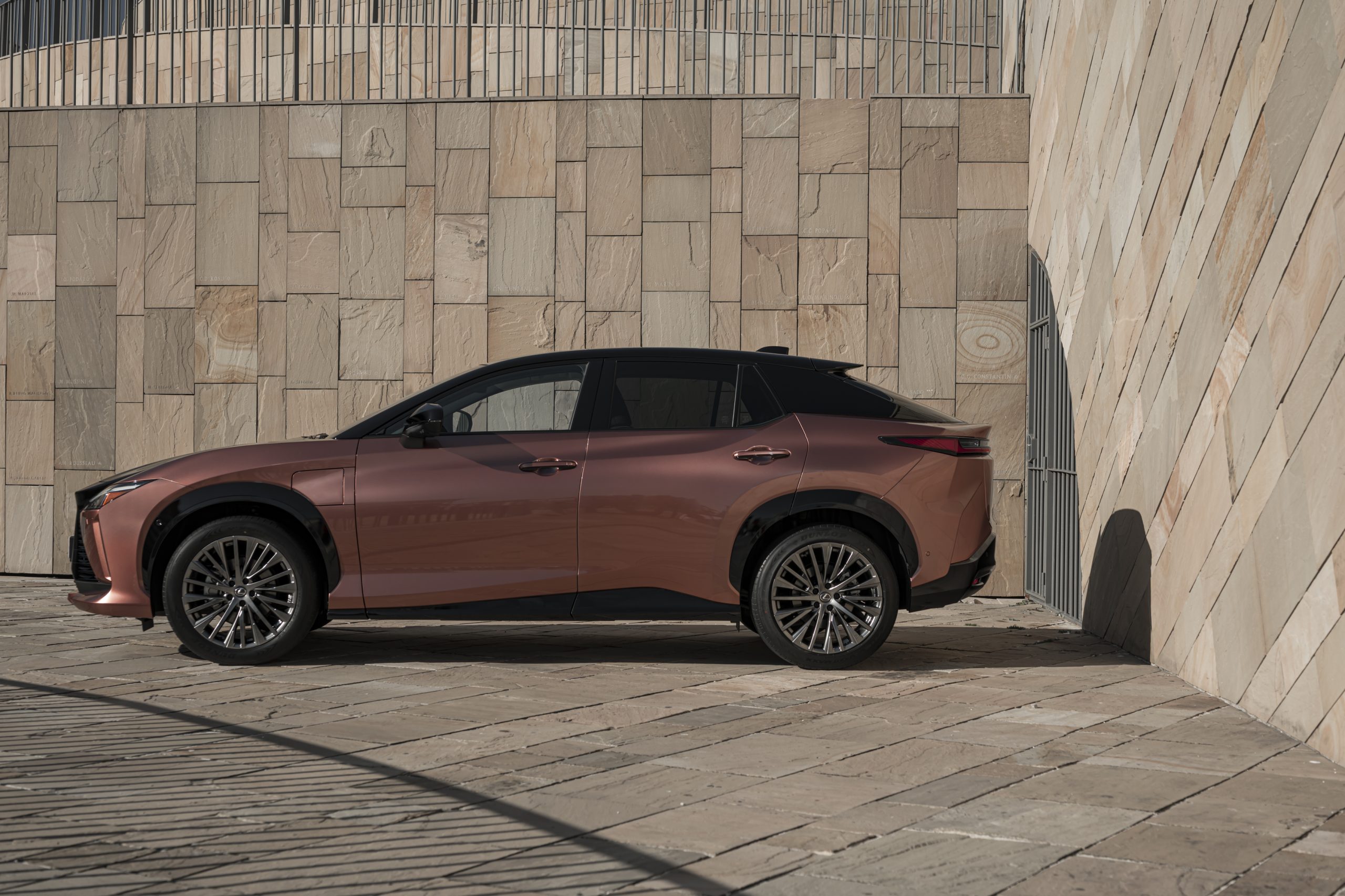 Lexus models have become known for their imposing looks, and the RZ develops on that. While perhaps not as coherent as other models in the firm range, which are known for their 'spindle grille' – there's no need for a grille on an EV, so there isn't one – the design is largely sharp and interesting.
The body is full of creases and angles, while the sloping roofline looks especially good, as do the almost bubble-effect roof and 'fins' on the rear spoiler. While all personal views, of course, we're not a fan of the overdone cladding. The unpainted trim on lower-spec models detracts from the design, while the gloss black trim on the range-topping models was poorly finished on our test cars.
What's it like inside?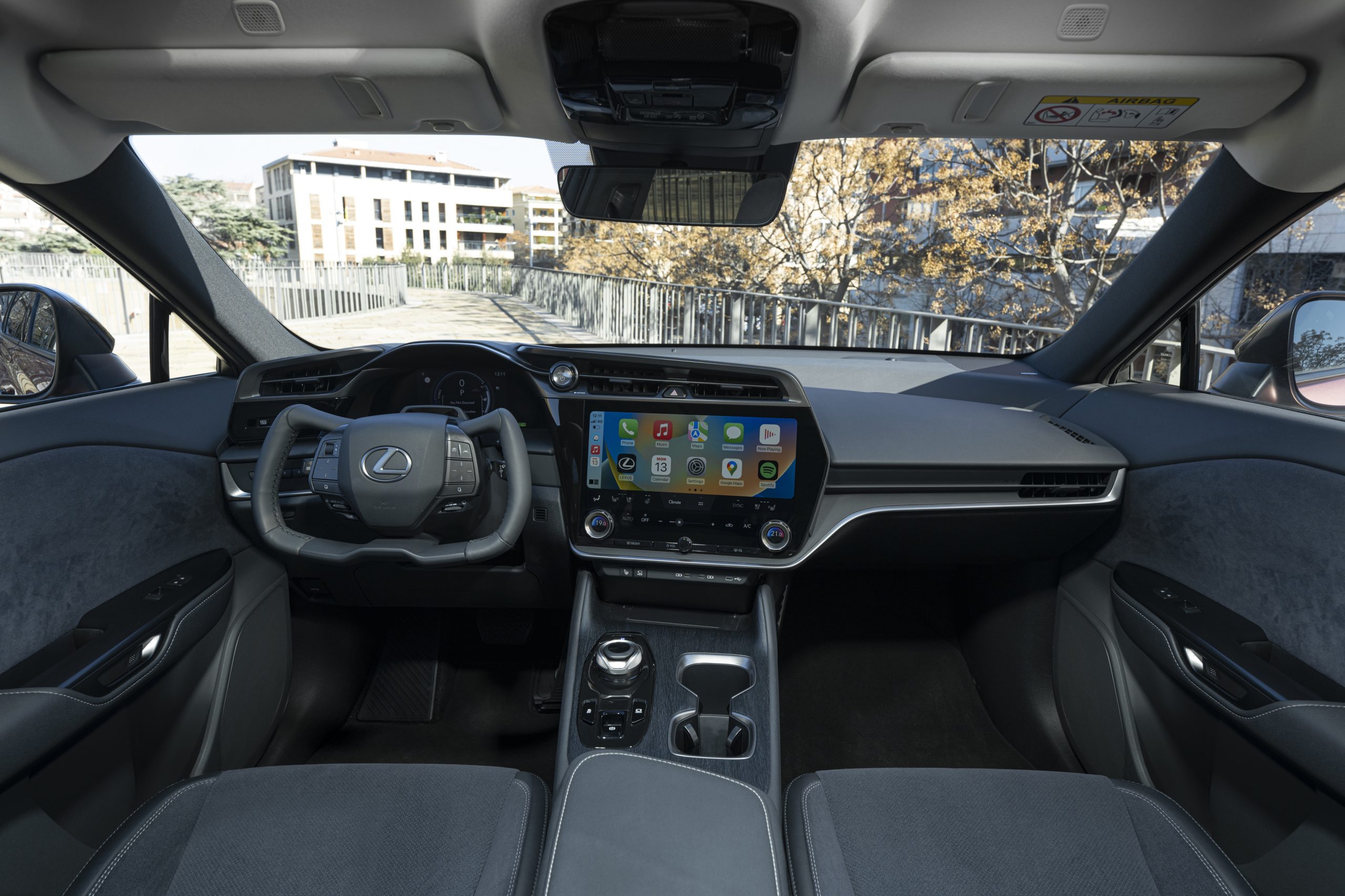 Jump inside the RZ and the cabin is dominated by a large 14-inch touchscreen that looks great and has crystal-clear graphics, though navigating some of the menus (such as changing driving modes) is more complicated than it needs to be. As for the rest of the cabin, we reckon it's not quite as well-finished as some of Lexus's other models – the RX, in particular – with some of the materials, such as the gear selector and instrument cluster, not being up to usual Lexus standards.
One area where it's hard to fault the RZ, however, is when it comes to space. Particularly for those sitting in the rear, there's a vast amount of legroom on offer. In terms of positioning, this EV slots between the NX and RX SUVs, but the room in the back feels more generous than even that larger model. The 522-litre boot is a great size, too. Downsides? Well, there's no glovebox, bizarrely (it's the same on Toyota's bZ4X), while there's a disappointing lack of storage space. It doesn't feel as if Lexus has made the best use of its EV platform as other manufacturers.
What's the spec like?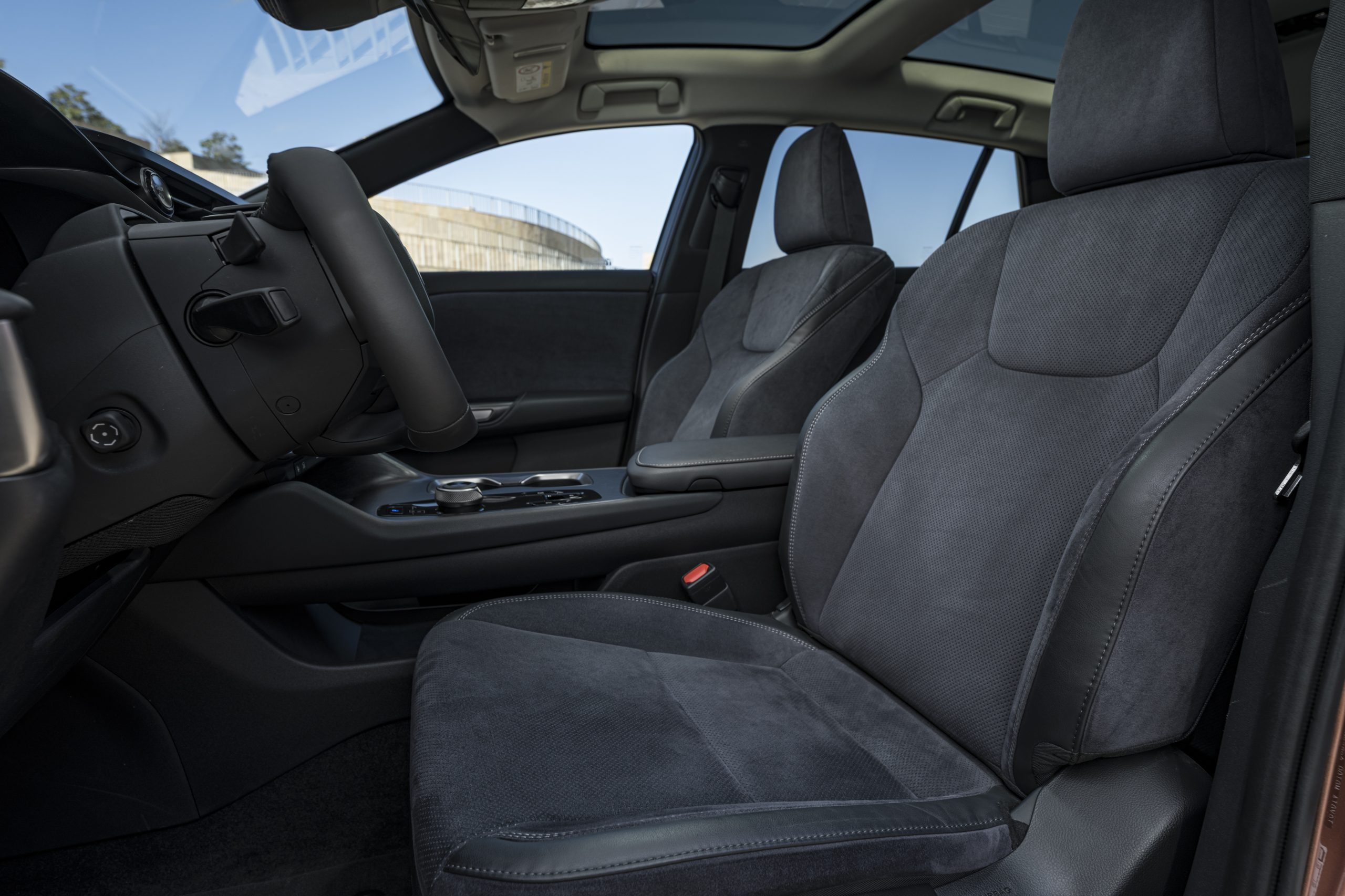 Prices for the RZ start from £62,600. For that, you get the 'Premium' model with plenty of equipment, including heated and electric front seats, a fixed panoramic roof and a range of driver assistance technology.
Upgrading to the Premium Plus Pack brings the more stylish 20-inch alloy wheels, ventilated front seats, a head-up display and 'radiant heaters' that are able to heat or cool the cabin far quicker and more efficiently than a conventional heater. That comes in at £66,600, while the flagship Takumi comes in at a steep £72,100, but for that, you get luxuries like plush 'ultrasuede' upholstery, the dimmable panoramic roof we've mentioned and a brilliant 13-speaker Mark Levinson sound system.
Verdict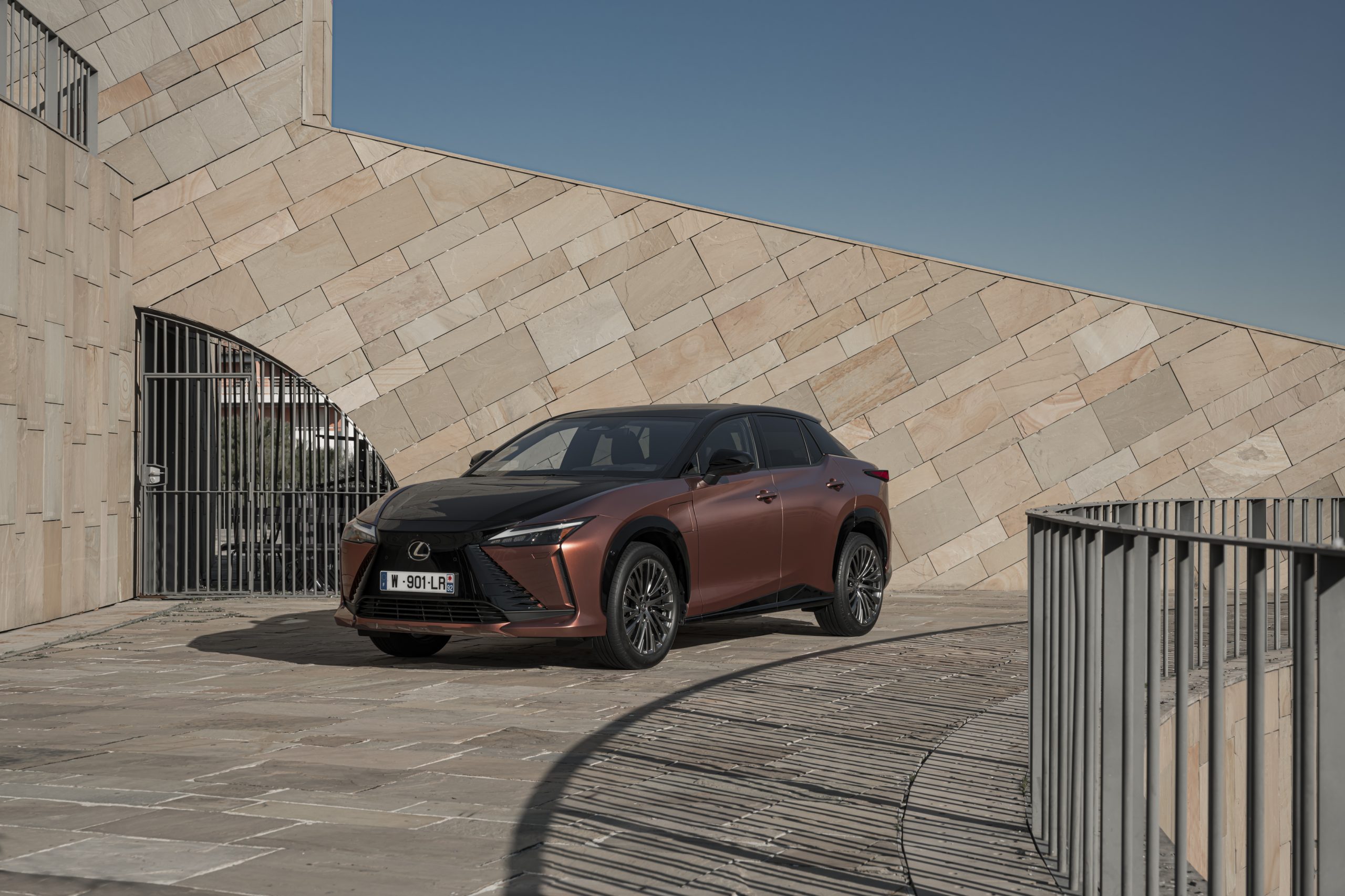 The Lexus RZ most certainly feels like a much better step into the world of EVs than the disappointing UX. This is a spacious electric SUV that excels in its refinement and comfort, and will likely go down well with this Japanese firm's loyal buyers.
But is the RZ going to rival the best in the premium electric SUV category? We reckon it might struggle. There are big question marks over its real-world range next to the claimed statistics, while we reckon the quality and infotainment aren't as good as the efforts from Audi, BMW and Mercedes. This is a good EV, but not one that will worry the best.