The year 2030. The year when you'll no longer be able to pop into a showroom, pick up a new petrol or diesel car and be on your way. No, from this date, you'll be either choosing a plug-in hybrid (which are set to be phased out five years later) or a pure electric car.
And though that date might seem quite a while away, nine years is a pretty short amount of time when you come to think of it. There are certainly some big cogs to turn before 2030, especially as EVs and PHEVs combined accounted for just over 10 per cent of new car registrations last year.
And keen to find out how ready we are for this brave new world, I'm going to be spending the next six-or-so months with this – a Volvo XC40 Recharge T5 plug-in hybrid. These types of vehicles are often considered as a 'stepping stone' on the way to EVs.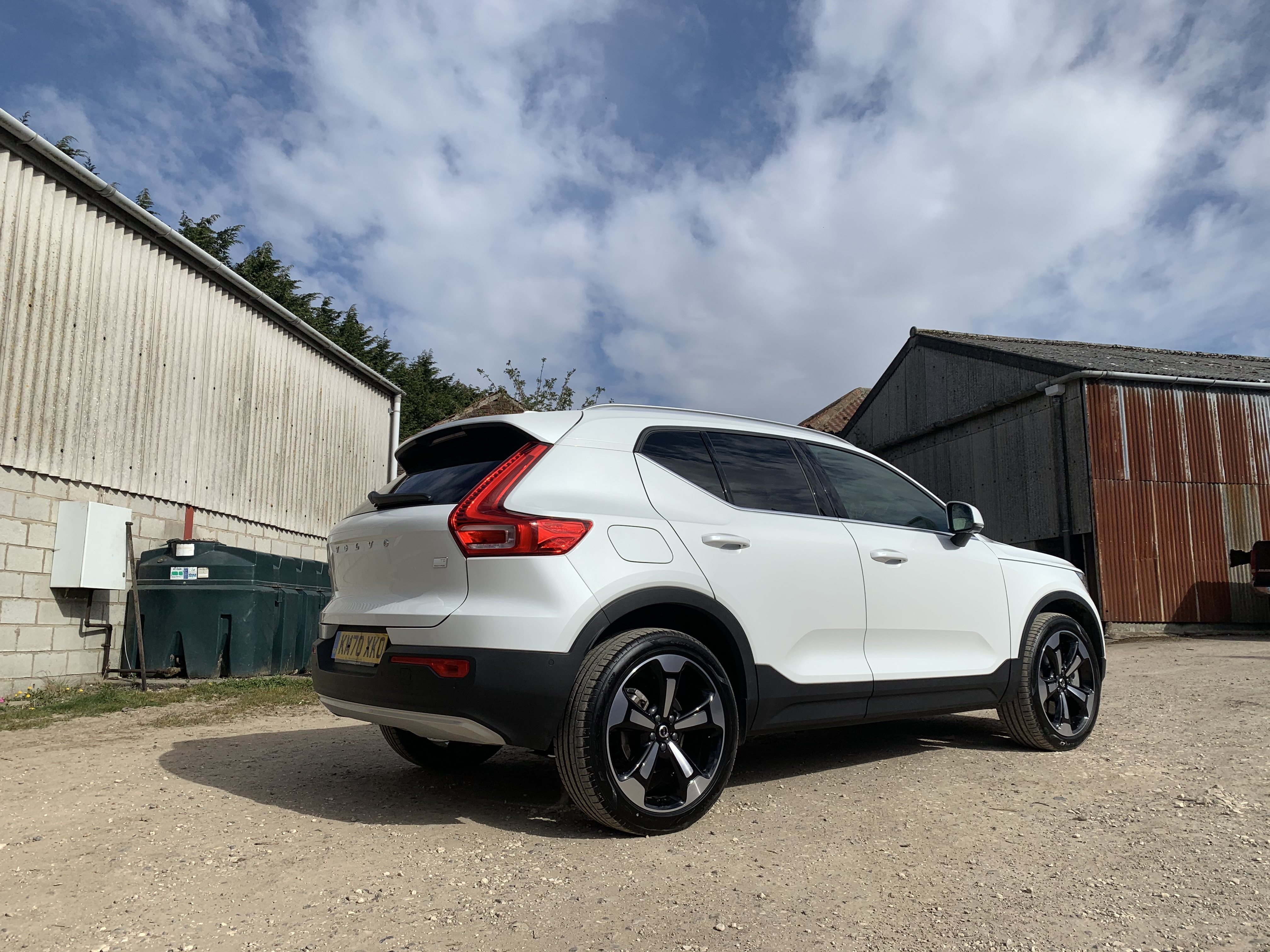 So, the XC40. Well, it's the Swedish manufacturer's most affordable model, carrying over many of the cues of the firm's larger cars (the smart upright grille and 'Thor's Hammer' headlights being two main highlights) and wrapping it into a more compact package. They're selling like hot cakes, too, as so far in 2021 it's the UK's sixth most popular new car, outselling models like the Volkswagen Golf and Ford Focus.
It's available with a wide range of powertrains, including petrol, mild-hybrid petrols, an EV and also a choice of plug-in hybrids. 'My' car is the T5 Plug-in Hybrid, which is the more powerful of the hybrids, combining a three-cylinder 1.5-litre petrol engine with an electric motor for a combined 258bhp.
There's also a 10.7kWh battery, which claims to allow for a 28-mile electric range – a figure I'm keen to see if I can get close to as PHEVs are known for overestimating this figure. According to Volvo, you could see up to 134mpg, but again, I'm taking that with a pinch of salt.
Though you can pick up a standard XC40 for less than £26,000, this T5 plug-in hybrid sits at the pricier end of the spectrum, costing from £42,530. 'From' being the key word there, as my optioned-up test car is specced up to a frankly ludicrous £50,000. It's worth remembering the XC40 is the same size as a Qashqai….
It's at this point I'll say I didn't get a choice of specs, either. Though I was a bit dubious about Crystal White at first (£750), upon seeing it for the first time in the sun and realising it was a pearl colour – rather than a flat white – it certainly appealed. It's also proven brilliant at hiding all the dust, given there hasn't been a drop of rain since I collected it nearly a month ago. The 20-inch diamond-cut alloy wheels (again, another £750) also look the part and especially as I haven't seen another XC40 with them before.
After this, there are a range of bundled option packs, including Driver Assist (a steep £1,550) which brings adaptive cruise control and blind spot monitoring, while the Lounger pack (another £1,750) features park assist, a 360-degree camera and electric sunroof. That latter feature has been a particular highlight so far, being open at every opportunity in the beautiful weather at the moment.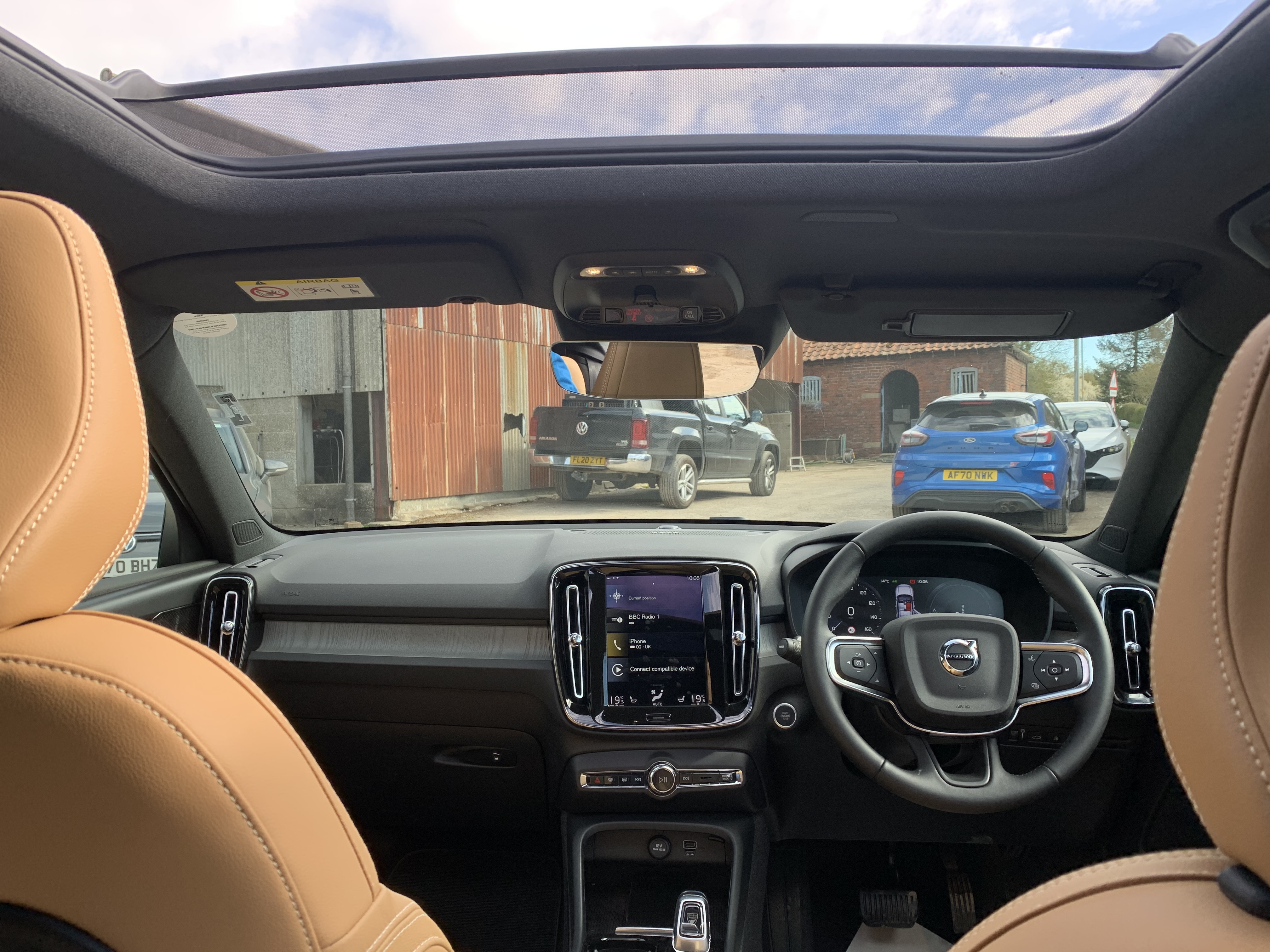 I also can't forget the interior, arguably the boldest thing here. While most XC40s you'll see will have a plain black interior, that's not the case here, with KM70 XKO having a strange cream-cross-orange colour.
It's called 'Amber', and – I'll be honest – when I first saw it, it reminded me of a cream leather interior that's been driven by a chainsmoker. Sorry Volvo, I don't imagine that's the look you were going for… That said, even in a short space of time it's really grown on me, and anyone that's had a nosey at it has loved it.
So far I'm adjusting to plugging the car in at every available opportunity – something I'll explore more in the coming months – and enjoying the XC40's strong comfort and refinement, especially when running solely on battery power. But will it be smiles all round for the next six months? Time to find out…