Order books finally open for Audi e-tron SUV following delay
Originally set to go on sale in November 2018, Audi's first all-electric model can now be ordered after a software issue caused a setback
Audi's first all-electric model is finally on sale following a delay caused by a software issue.
Order books for the e-tron SUV were due to open in November 2018, but a modification of the car's software in the late stages of development set that back.
In a statement late last year, Audi confirmed a four-week delay, saying: "We have improved some of the software that is relevant for type approval. This means that the homologation process has to be repeated. However, there are no problems with the type approval itself. This has caused a four-week delay in deliveries to the dealerships." It did not state a reason for a delay beyond that period.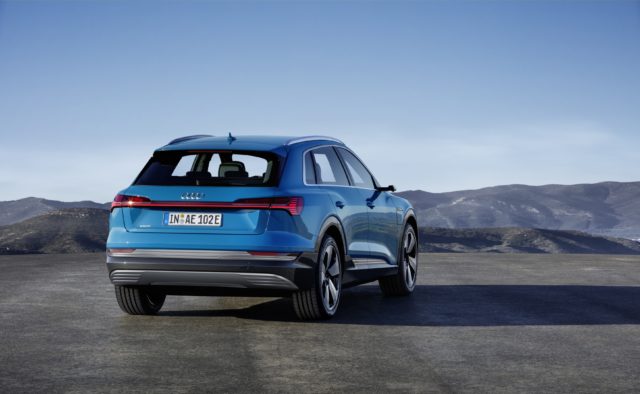 Unusual for an Audi model, the e-tron will be available in just one variant – a base trim level, with all examples of a limited-run Edition 1 variant already accounted for.
Available from £71,490, the electric vehicle has a comprehensive level of standard equipment. Exterior additions include 20-inch alloy wheels and LED headlights, while twin-leather upholstery, Audi's MMI infotainment system on a touchscreen display with satellite navigation and Parking System Plus – incorporating a 360-degree camera and sensors – make up the no-cost luxury inclusions inside the car. Adaptive air suspension is also a standard-fit item.
Just 30 e-tron Edition 1 models are to arrive in the UK, and all of them have already been snapped up. With a starting price of £82,240, this limited-availability grade ramps the level of equipment up from the entry-level version of the SUV.
Aesthetic tweaks to distinguish Edition 1 cars include black highlights for the front grille surround and window trim, while privacy glass also features on the rear windows. Its alloy wheels, meanwhile, are upgraded to 21-inch units.
As for technology, the trim boasts cameras in place of traditional wing mirrors, adaptive cruise control, a panoramic sunroof, heated and ventilated seats plus the ability to pre-heat the car via a smartphone application. 'Valcona' leather is also present for a more luxurious feel.
Both variants of the e-tron are powered by a 95kWh battery, which sends 402bhp to all four wheels. The result is 0-60mpg in 5.5 seconds, with a top speed of 124mph possible. Audi claims that 241 miles can be covered on a single charge, with the battery itself able to be charged from flat to 80 per cent in 30 minutes when using a 150kW DC charging station.
First deliveries of the Audi e-tron are expected to begin in April.
Sorry, we are not accepting comments on this article.