Coleen Rooney says Rebekah Vardy tried to put 'unnatural friendship' on her
Coleen Rooney has spoken out about the High Court libel case launched by Rebekah Vardy dubbed 'Wagatha Christie'.
Coleen Rooney has said she felt like her friendship with Rebekah Vardy before the so-called Wagatha Christie case was "unnatural".
The duo were friendly before Vardy launched a libel battle against Rooney, 37, which Vardy, 41, lost when the High Court judge found Rooney's claims to be "substantially true".
The wife of former England football star Wayne Rooney publicly claimed in a social media post in October 2019 that Vardy's account was the source behind three stories in The Sun newspaper featuring fake details she had posted on her private Instagram stories in a months-long "sting operation" she had carried out.
Speaking to The Times ahead of the release of a new documentary called Coleen Rooney: The Real Wagatha Story, detailing the libel case from her point of view, Rooney discussed how the trial came about and what it has been like for her to make friends as a wag (footballer's wife).
Rooney said she had made some "natural friendships" with fellow mothers at her children's schools but mentioned that her friendship with Vardy, wife to footballer Jamie Vardy, had been "unnatural".
"I can tell when someone is trying to force a friendship because of your status," she said.
"I'm very savvy about that. And I felt like the friendship Rebekah was trying to put on me was unnatural."
She added: "I've never fallen out with the partner of another footballer in my life, and I never thought I would."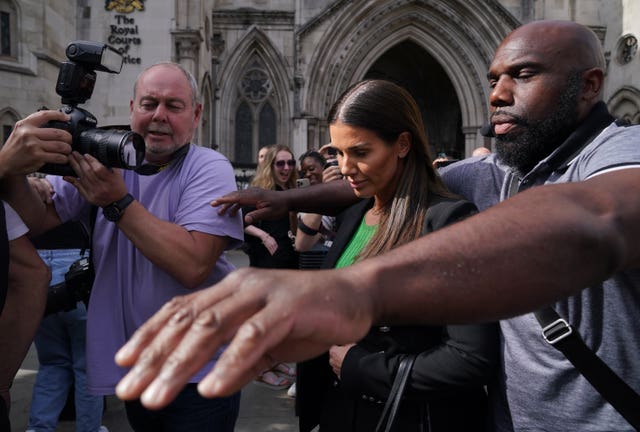 Speaking on whether she was surprised that the leaks came from Vardy, Rooney said: "Obviously Rebekah has lived my life to a degree, in the public eye.
"So I never thought someone would do that to someone else. But I knew she enjoyed the limelight and would do things only to be in the public eye.
"And the more I knew, the more I wasn't surprised."
Asked if she shields her children from media coverage, she said: "No. If they ask a question, I'll tell them the truth in a child-friendly way and tell them what's right and wrong. Then they won't get a shock when they're older."
The fake stories Rooney planted on her Instagram during the sting operation featured her travelling to Mexico for a "gender selection" procedure, her planning to return to TV, and the basement flooding at her home.
In the post on Instagram, Twitter and Facebook, she then wrote: "I have saved and screenshotted all the original stories which clearly show just one person has viewed them. "It's …… Rebekah Vardy's account."
Documentary Coleen Rooney: The Real Wagatha Story will reveal how Rooney staged her sting operation and the new series is set to premiere on Disney+ on October 18.