Actor Hugo Chegwin has pulled out of 2:22 A Ghost Story due to illness.
EastEnders actor Jake Wood has stepped in to reprise the role of Ben, starring opposite former Girls Aloud singer Cheryl in the supernatural thriller in London's West End.
Cheryl, who has dropped her previous surnames of Tweedy, Cole and Fernandez-Versini, is making her West End debut as Jenny.
Chegwin was supposed to appear alongside Horrible Histories actress Louise Ford and theatre star Scott Karim for a 14-week run from January 21 at the Lyric Theatre.
People Just Do Nothing star Chegwin, 37, said: "I've had the flu. Due to being poorly during the rehearsal period, I've had to pull out of the play.
"I'm absolutely gutted about this and I wish everyone involved in the play the best of luck. The cast are truly amazing."
Wood, 50, originally starred alongside singer Lily Allen, Silent House actress Julia Chan and West End actor Hadley Fraser in the production.
He will perform from Thursday until the end of the run, and previews up until then will be played by understudy and EastEnders actor Ben Cutler.
Wood, best known for his soap role as Max Branning, said: "It was an honour to originate the role of Ben at the Noel Coward, winning the Whatonstage best supporting performer in a male identifying role in a play award for 2021, and I am so excited to be rejoining the cast until the end of April.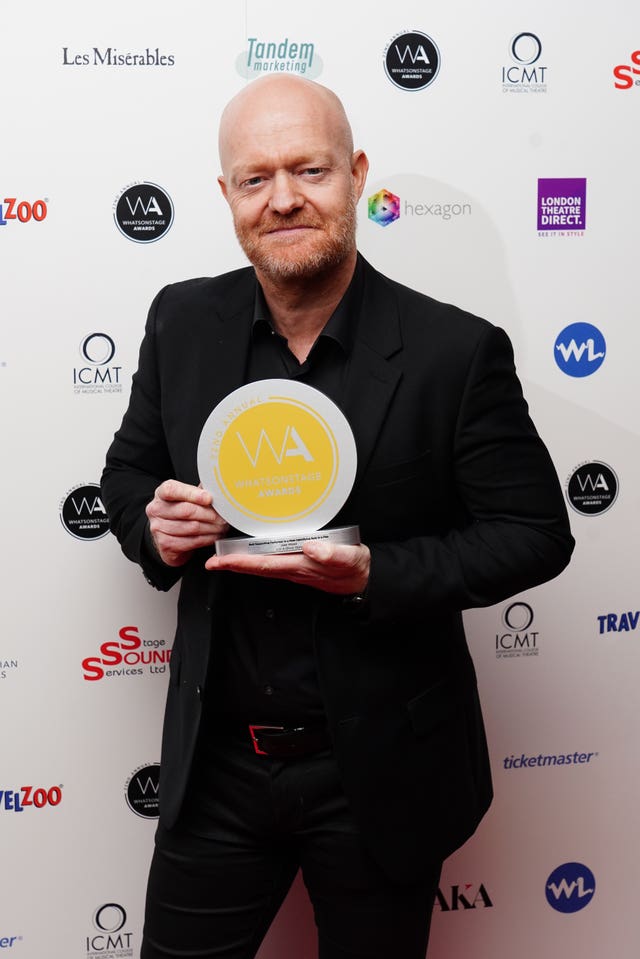 "Danny Robins's script is funny, touching, and so entertaining and easily the best play I have ever read.
"If you've seen the show before, come back and see it again and I promise that you will enjoy it just as much, as I know I will the second time around."
The play has also seen appearances by Harry Potter's Tom Felton, podcast host Giovanna Fletcher, Encanto's Stephanie Beatriz, Busted star Matt Willis and Inbetweeners actor James Buckley.
The show, written by Danny Robins and directed by Matthew Dunster, follows Jenny, who believes her new home is haunted, while her husband Sam, played by Karim, is not having any of it.
The couple argue with their first dinner guests, old friend Lauren, played by Ford, and her new partner Ben as belief and scepticism clash.
Robins wrote on Twitter: "Really sorry for @hugob0ssman and we will miss him, but we are delighted to welcome @mrjakedwood back who was so sensational in the show last year."
The producers said: "Due to illness during the rehearsal period, Hugo Chegwin has sadly had to withdraw from the production.
"We are delighted to welcome Jake Wood back to the 2:22 family."
2:22 A Ghost Story is taking bookings until April 23 at Lyric Theatre in London.