Great British Bake Off winner Rahul previously applied for the hit TV show but was knocked back, his colleague has said.
Research scientist Rahul Mandal, who secured victory in a tense final, only got as far as a telephone interview when he put himself up for the 2017 series.
Rahul received several of Paul Hollywood's famous handshakes for his mouthwatering creations.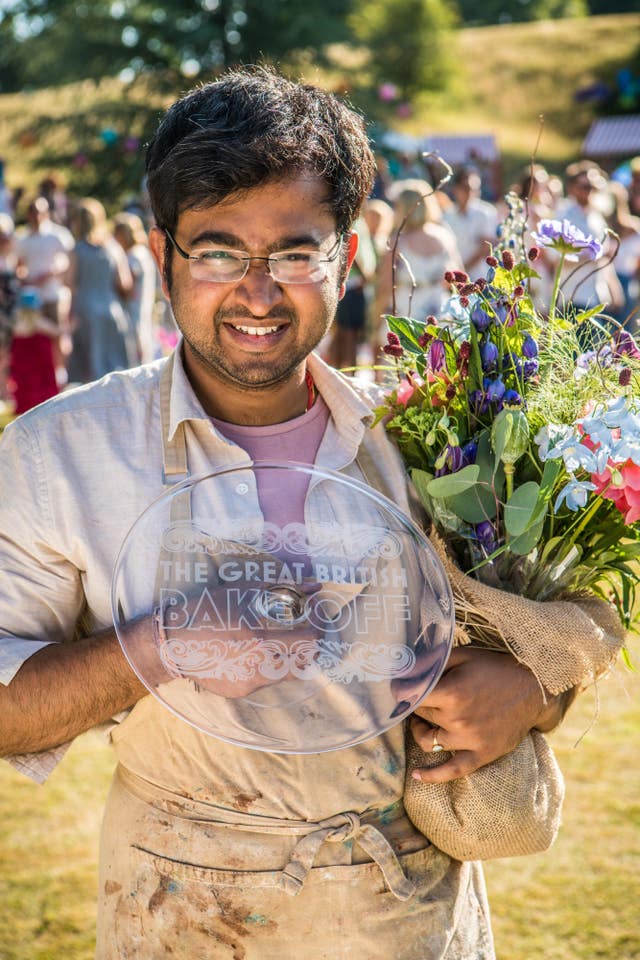 David Anson told the Press Association his colleague had been on an "exponential learning curve" before appearing on the Channel 4 show and one of his earliest bakes "wasn't brilliant".
He and Rahul started new jobs at the Nuclear Advanced Manufacturing Research Centre in Rotherham on the same day just over three years ago.
"He was referring to the plants by their Latin names while chatting to the people who tended them," the commercial programme manager said.
"I thought 'I don't know the names of these plants in English and he's referring to them by their Latin names'.
"He made me think: Goodness me, what sort of place have I come to?"
Rahul, who beat Ruby and Kim-Joy to triumph in the final, did not bake when the pair first met, his colleague said.
But in June 2016 he brought into work one of his very earliest creations – a Victoria sponge.
Mr Anson said: "He said it was his second ever cake that he'd iced.  It was very over-the-top in colour and thickness. That wasn't brilliant. I couldn't eat the icing. It was 50-50 cake and icing.
"After that he kept bringing more and more bakes into work for people to try. He always bakes for someone's birthday, he wants the excuse to bake a cake.
"After a while he was thinking of applying for Bake Off … He did apply last year and got a telephone interview but that was all.
"He spent the next year improving and improving and improving, and taking photographs of his stuff. More esoteric stuff started coming in …"
Mr Anson said, when it came to this year's show, Rahul was saying: "I'm not sure I will, I'm not sure I'm ready."
His colleague said: "It was me who sent him the link by email and said 'stop going on about it, apply for it'."
Mr Anson added: "When he got on to the programme he stopped bringing the cakes into work because it would give the game away."
The amateur baker, who moved to the UK from India eight years ago, overcame a setback when a jar shattered, spraying shards of glass across his workbench, during the final.
Judges Prue Leith and Hollywood ultimately gave him extra time at the end of challenge to make up for the 15 minutes he lost.
His colleague said of those saying that Kim-Joy should have won: "We don't taste the stuff, we see it. The sludge (in his showstopper) tasted beautiful.
"I ate most of it. But at the end of the day it really was very close."
He joked his wife was Rahul's "chief technical consultant" for his bakes after she made the same comments as the judges made about his bake on week one.
After presenter Noel Fielding sparked confusion when he referred to Rahul's "wife", Mr Anson dismissed any suggestions the Bake Off winner is a married man, saying: "He's free and single".
He said of his friend since his win, filmed earlier in the year: "He's been carrying on with his job.
"He's doing first rate research using lasers, it's really complex. He's just a league above … He's a bright spark."
Rahul, who impressed the judges with his doughnuts in the signature challenge despite never having eaten one before the competition, urged more men to take up baking.
Speaking on BBC Radio 4's Today programme, Rahul said: "Quite a lot of guys and boys at school, they think they can't bake. Anybody can do it."
After discovering he had won, he said on Bake Off: "I just feel I need to talk with my mum.
Leith praised Rahul for having "always tried to do a bit more than everybody else, and it paid off".
Hollywood added: "I don't think he realises still how good he actually is and I think that's what's magic about Rahul."
Rotherham MP Sarah Champion praised the town's Bake Off champion.
She said of the Rotherham resident: "It was wonderful to see Rahul bring the Great British Bake Off trophy home to Rotherham last night. The whole town is proud of him.
"Rahul said baking was his way of integrating into the community when he arrived here from India, what a great sentiment for all of us to emulate.
"Rahul's win will hopefully help people see the person, and not just the statistics, when we talk about immigration in future."